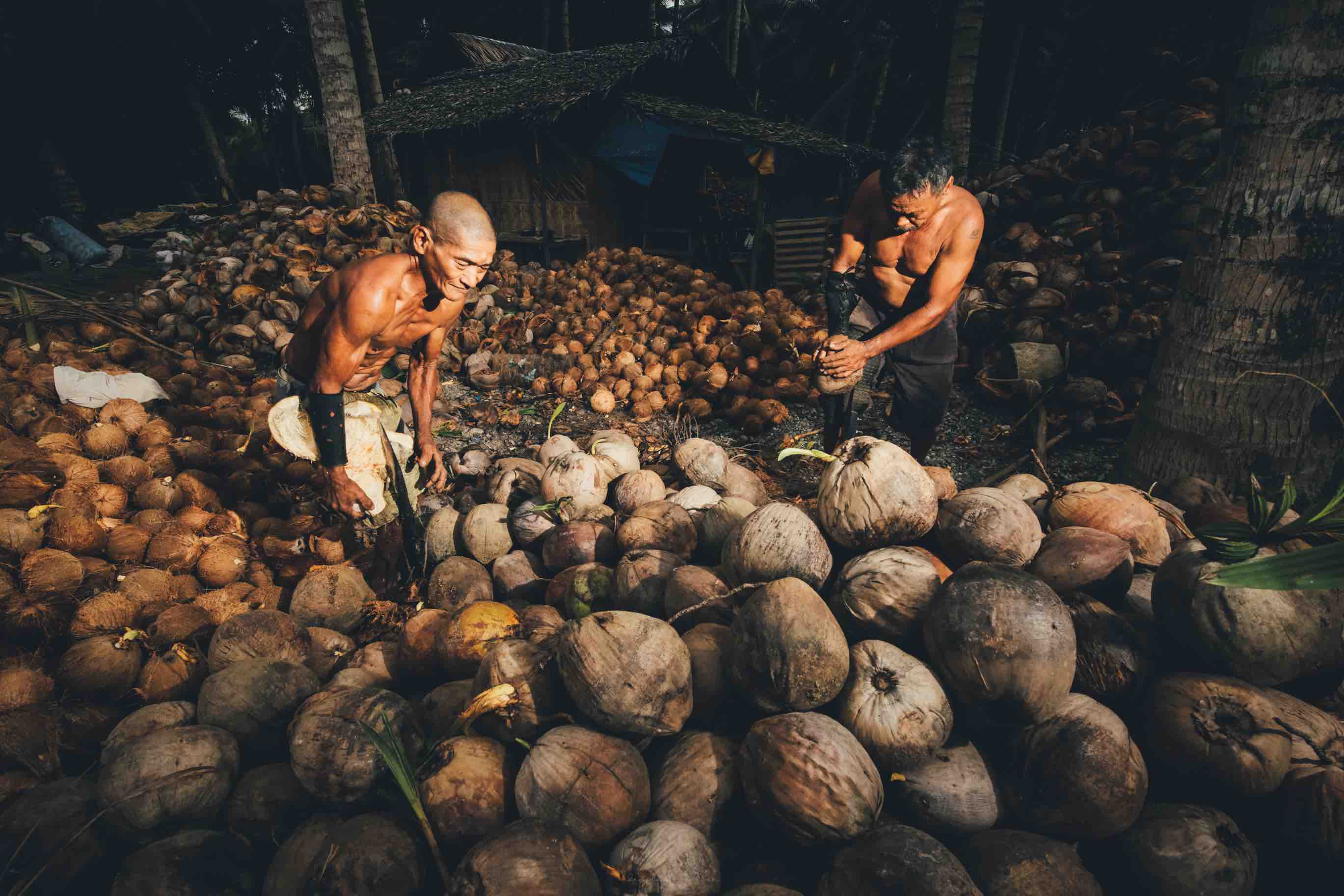 Local Economy
5-Year Business Name Registrations
The provincial economy has shown an irregular uptrend for the last five years. (CY 2011-2015). CY 2012 has exhibited the highest registrations, which, however, declined in early CY 2015 as a result of the "Typhoon Pablo" devastation that happened towards the end of CY 2014. The East Coast areas' economy were badly hurt, with shutting down of major industries/enterprises, thus slowed down momentarily, the growth of the domestic economy.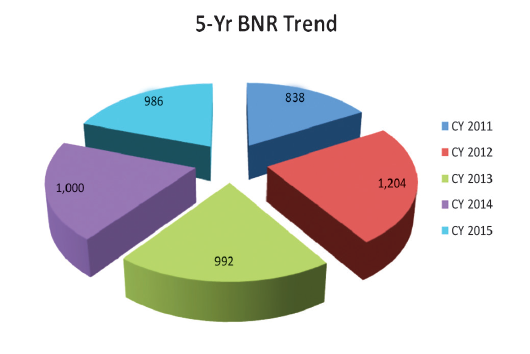 Business Name Registrations Per Municipality, 5– Year Period
Mati City has the largest number of business locators in an uptrend direction for the last five years. It has maintained to be Fifty per cent (50%) higher than the business locaters in the Municipality of Lupon, which comes second to Mati City. Governor Generoso are catching up, with Manay and Baganga starting to kick-up. This may be due to
the vital facilities that's existing in the City of Mati making it a deciding factor for investors to do business.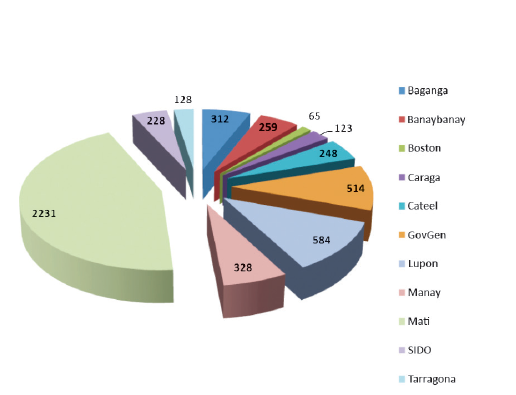 BN Registrations by Sector: 5 – year Trend
Retail Trade, Allied Services, Food Processing, Agriculture and Real Estate are the 5-major playing sectors captured thru the Business Name Registration of DTI-Davao Oriental. Retail trading consistently has the most number of registrants provincewide in the succeeding 5-years period. From the data presented, CY 2012 has the highest number
of registrations and CY 2015 manifests a sort of reserved recovery position.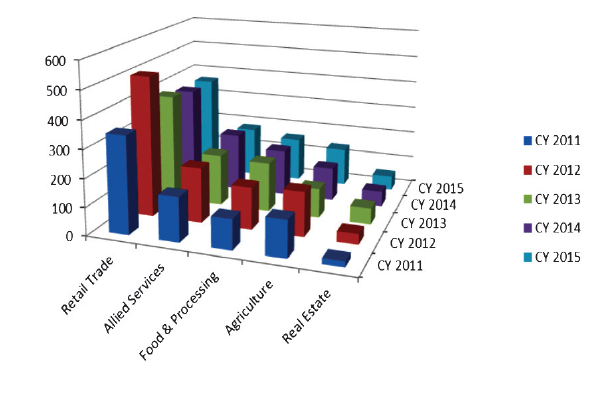 Investments Performance In Million Pesos
Investments Performance based on Business Name Registrations revealed highest on Retail Trade/General Merchandise. It should be noted that
these are single properietorship type of businesses which excludes
corporations and cooperatives operating in the province. It is observed that CY 2011 records peak of investments which declines and starts to perk-up in CY 2015.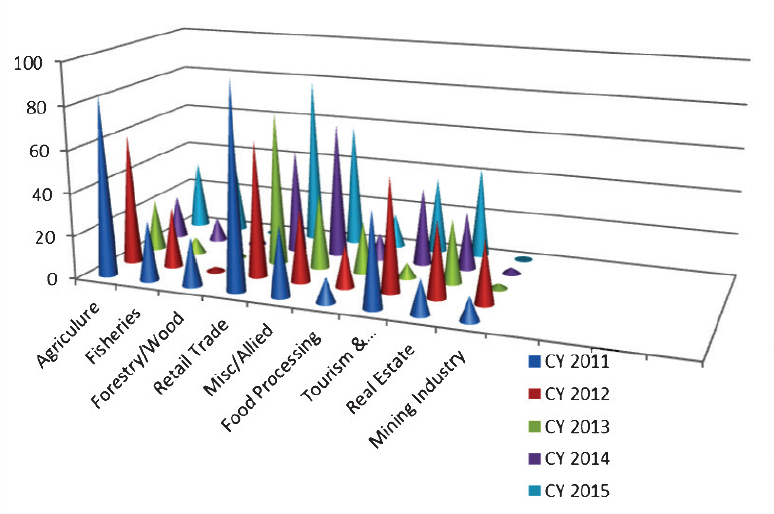 Major Industry Players In Million Pesos
Dominating industries in Davao Oriental includes coconut, banana
and abaca. Coconut is considered as the top industry,
followed by banana and abaca. CY 2012 records the peak
in coconut production which declined in the suceeding years
brought by setbacks. The industry dramatically shoots up to recovery
in CY 2015.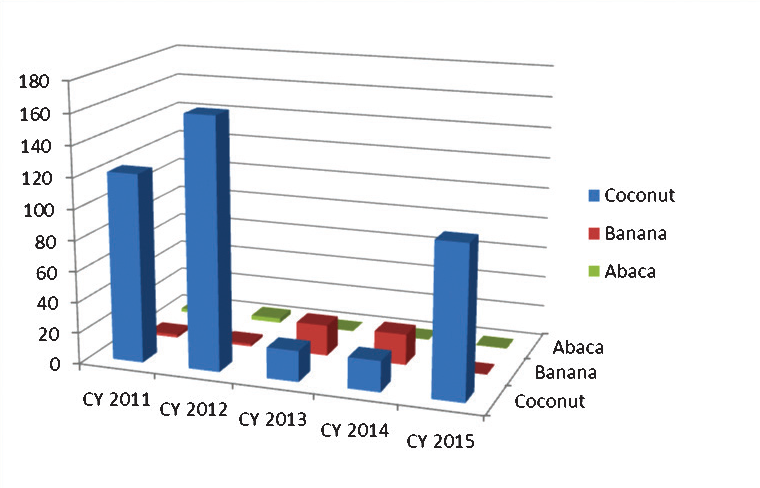 By Department of Trade and Industry Provincial Office
---