City of Mati, Davao Oriental — As the province marked its 53rd Founding Anniversary today amid a highly dreaded pandemic COVID-19, Governor Nelson Dayanghirang has rallied his people to pay tribute to the frontliners who "selflessly put their lives on harm's way every hour of the day to carry out essential roles outside their homes to support us all."
Stressing that the people of Davao Oriental "deserve the best public service," the Governor said "the Province of Davao Oriental owes you all a debt of gratitude" specifically referring to the men and women on the front line of the government's anti-COVID-19 campaign like the medical doctors, nurses, and all the health and medical care workers, barangay officials and functionaries, the AFP and the PNP.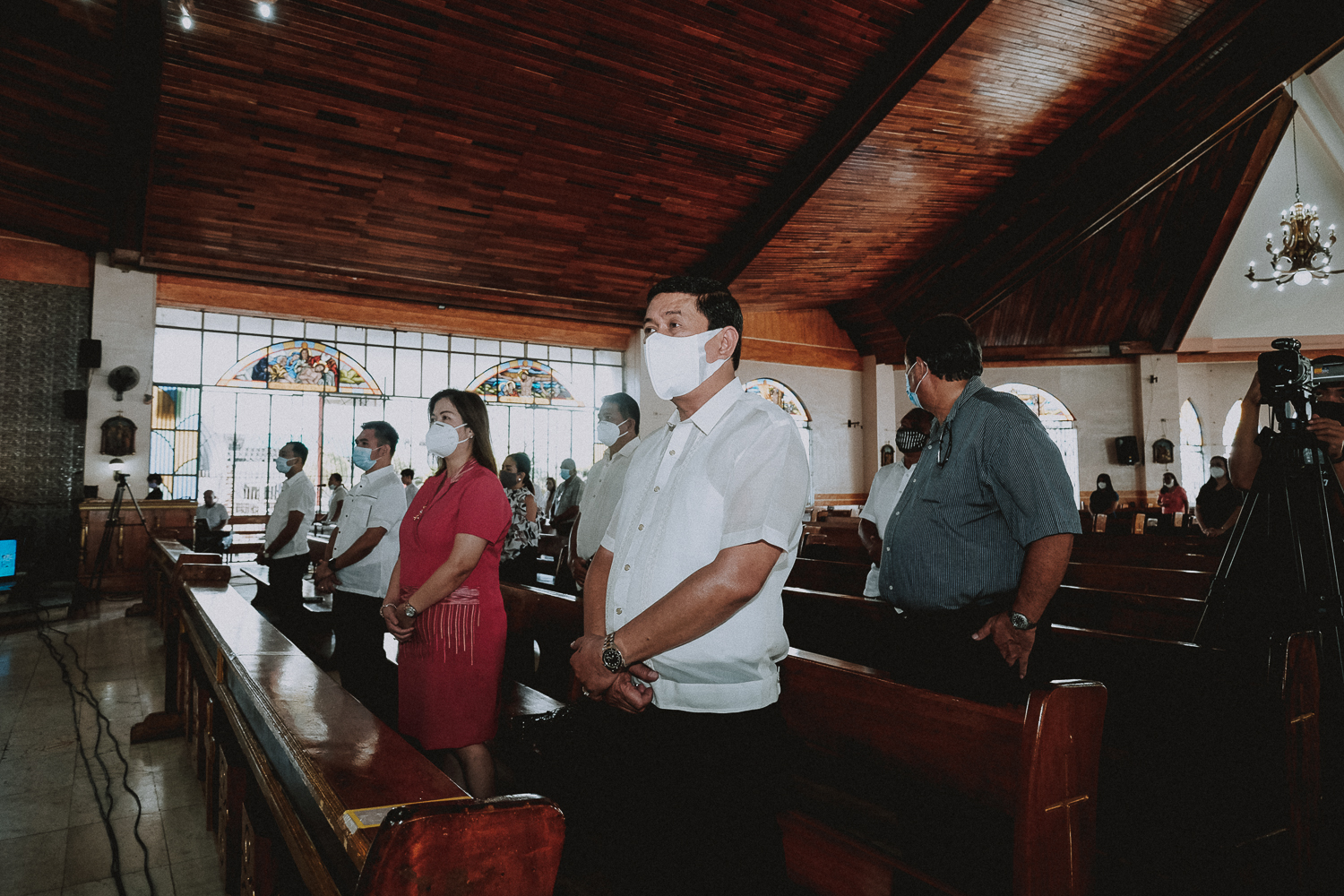 And as the government is slowly easing restrictions, the Governor urged the people not to be complacent and to always follow health protocols set by authorities so the collective efforts and sacrifices would not be put to waste.
Because of the pandemic, however, the province marked its 53rd founding anniversary with no fanfare unlike the previous years. Although the day was declared by the Governor as a special non-working public holiday, only a Holy Mass celebrated by Mati Bishop Abel Apigo held at the sprawling Mati Cathedral was the only event that marked the celebration of the province's 53rd founding anniversary.
Bayanihan: Katawhan, Kaayuhan, Kalampusan
This year's founding anniversary's theme is Bayanihan: People, Healing, Goodness, Progress. For the first time in the province's history, the Governor delivered a Founding Anniversary speech during a Holy Mass held at the San Nicholas de Tolentino Cathedral also known as the Mati Cathedral. Although the Holy Mass was sparsely attended by officials of the local government and national government agencies, it was being aired live on local television and radio stations.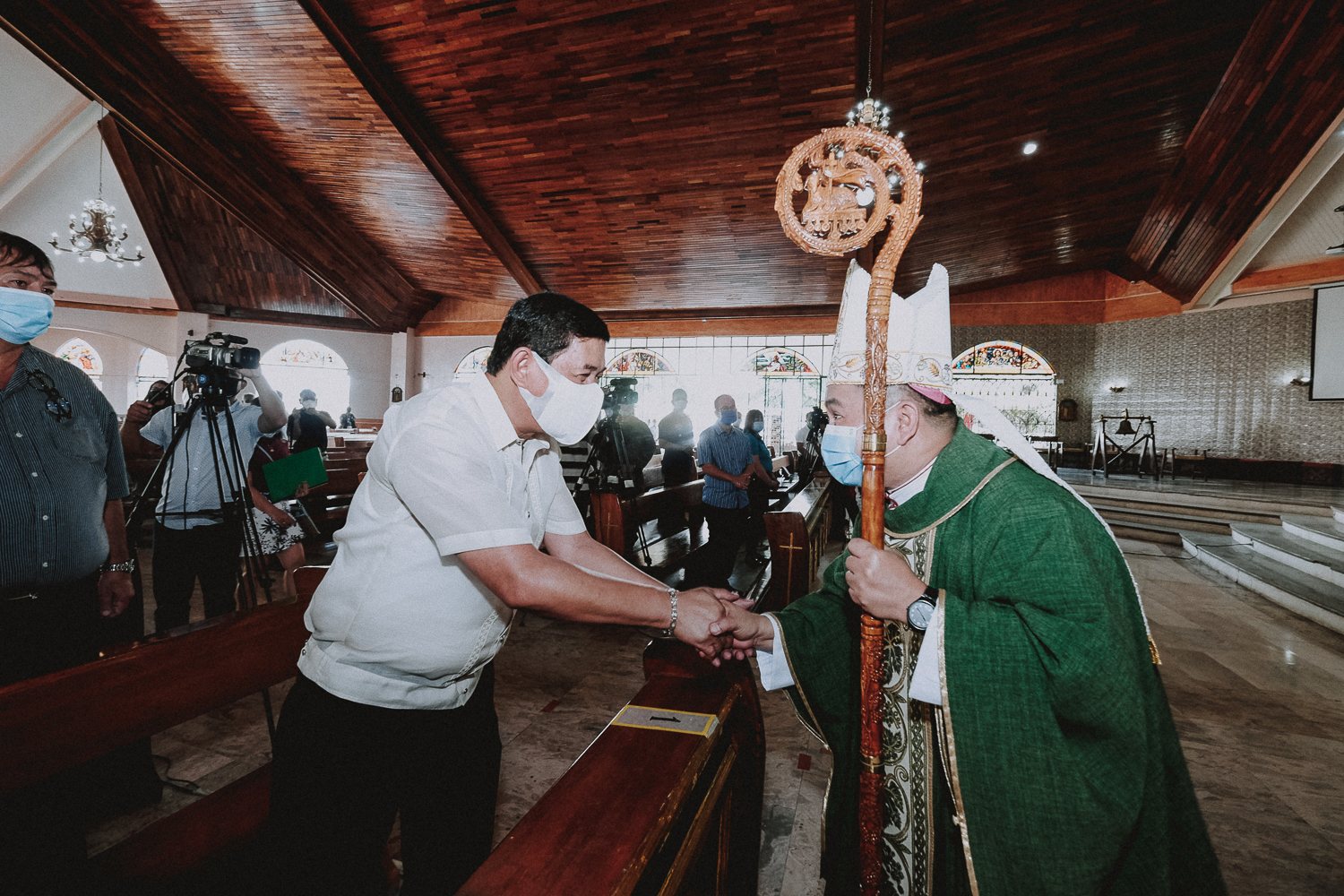 "The COVID-19 crisis we now face is something entirely different. It has demanded us to do things out of the ordinary, changed our lifestyles, emptied our streets, closed our doors and tore us apart from the very people who, during those times of distress in the past, were there to help us through — our family, our friends, our neighbors, our community. Bisan pa man niini, ato kining giatubang tulo ka bulan kapin sugod niadtong Marso, og padayon nato kining atubangon sama sa pag atubang nato sa mga nangaging kalisdanan. I feel deep pride in saying that the entire province greatly benefited from the COVID-19 response measures we have implemented as these prevented the entry and limited the spread of the coronavirus in our area. Since we have no allocation for this particular crisis, in our 2020 annual budget, other funds amounting to P211 million were realigned and made available for COVID-19 response, food security and health services interventions. For this administration, the interest and welfare of the people of Davao Oriental is paramount over all other considerations, especially during trying times such as now… The whole set of COVID-19 response, food security and health services measures that we have taken reflects the unprecedented situation we are in. But the nagging question at the back of everyone's mind is what happens next? Everyone is thinking about the day after, about what jobs they will go back to, about what will happen to their business or to their employers, about their savings and loans. For us in public service, nothing is more real or more urgent than preparing for the day after. By way of example, let me air my concerns about the Internal Revenue Allotment or IRA. Nasayud kita nga kadaghanan sa mga LGUs sa Pilipinas, lakip na diha ang Davao Oriental, nagsalig or are largely dependent sa ilang bahin sa IRA. Ang dako nga parte sa ilahang mga Annual Budgets is composed of the IRA, meaning that many of the PPAs, the day-to-day operations of LGUs, their delivery of mandated basic services, among others, are funded from or out of the IRA. Nasayud sab kita nga ang IRA gikan sa buwis nga nakolekta sa gobyerno. Tungod sa COVID-19 pandemic, tax collection efforts of the government were greatly hampered because it has adversely affected the business sector. Ato sab madungog sa TV og print media reports nga dako ang nawala sa tax collection targets dili lamang sa national government but also in all its levels. Karun pa lamang, I am already entertaining doubts about our IRA share. Basi magka-muritsing ta niani pag-abot sa panahon kung dili ta mohatag og saktong pagpangandam nianing mga butanga. We will have to make difficult but necessary decisions now. What we do now will really matter and will in fact prove crucial in determining and defining the future," says Governor Dayanghirang during a speech he delivered at the Holy Mass in the Mati Cathedral on July 1. Photos by Eden Jhan Licayan