City of Mati, Davao Oriental — Davao Oriental Governor Nelson Dayanghirang has warmly welcomed the 42 members of the Communist New People's Army who voluntarily surrendered to government troops amid intensified crackdown on insurgents who seized food packs from poor families who are recipients of the local government's relief operations due to COVID-19 pandemic.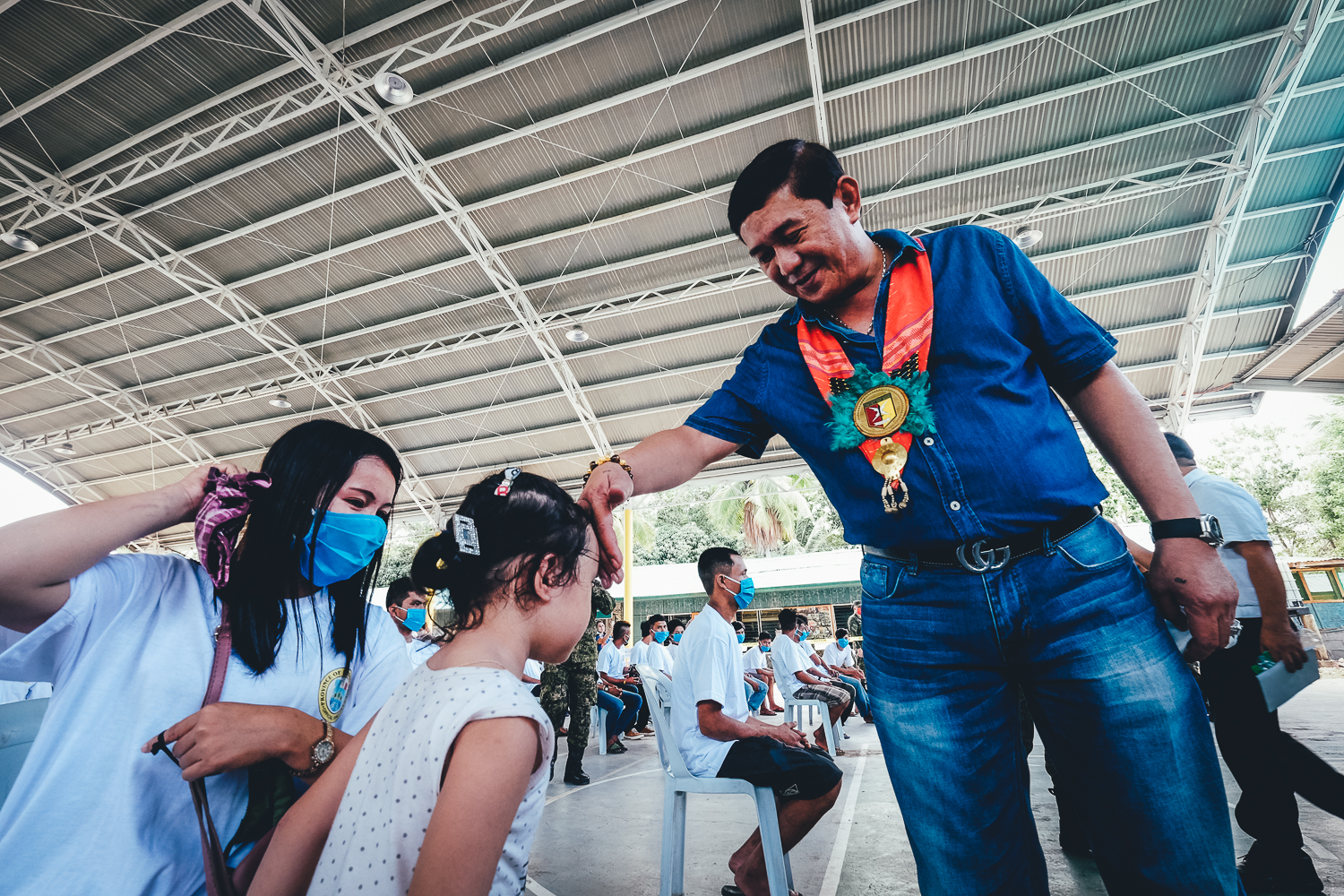 "Dako ang akong kalipay nga mibalik namo sa sabakan sa balaud. Og ako lang hangyo ngadto kaninyo, naa pa may inyong mga kauban nga anaa pa sa kalihukan, hibawo man ko nga anaa pa moy kontak diha nila, palihog lang tawagi sila o itext og sultihi sila sa inyong kahimtang sa inyong pag surrender, og hangyoa sila nga maghiusa na kita arun walay nay kagubot og mamahimong malinawon na ang atong probinsya og atong angkonon ang paglambo sa atong mga komunidad (I am so glad that you have decided to go back to the fold of law. And I know you still have lots of comrades who continue to stay in your jungle lairs, please contact them, and convince them to follow suit by narrating your good life here after your surrender to the government. Please convince your comrades to surrender. Let us unite now so we can achieve our goal of peace and development for our communities)," says Governor Dayanghirang during a ceremony held at the headquarters of the Philippine Army's 701st Brigade in the City of Mati.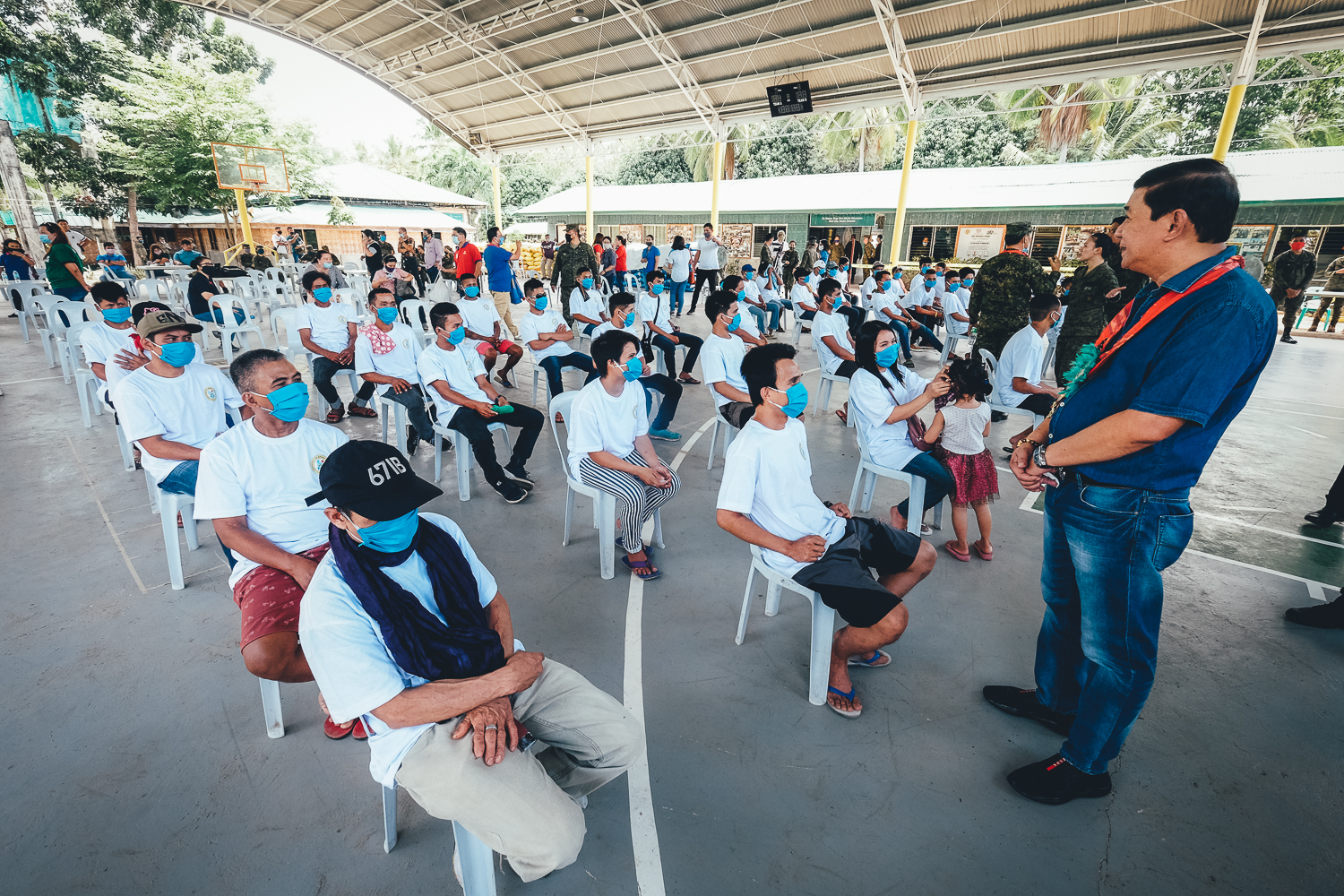 During the ceremony, each of the 42 surrendering rebels received cash assistance from the Governor and the Department of Social Welfare and Development: P7,000 from Governor Dayanghirang, and P6,000 from the DSWD. They also received food packs from the 10th Infantry Division Multi-Sector Advisory and Action Group (MSAAG).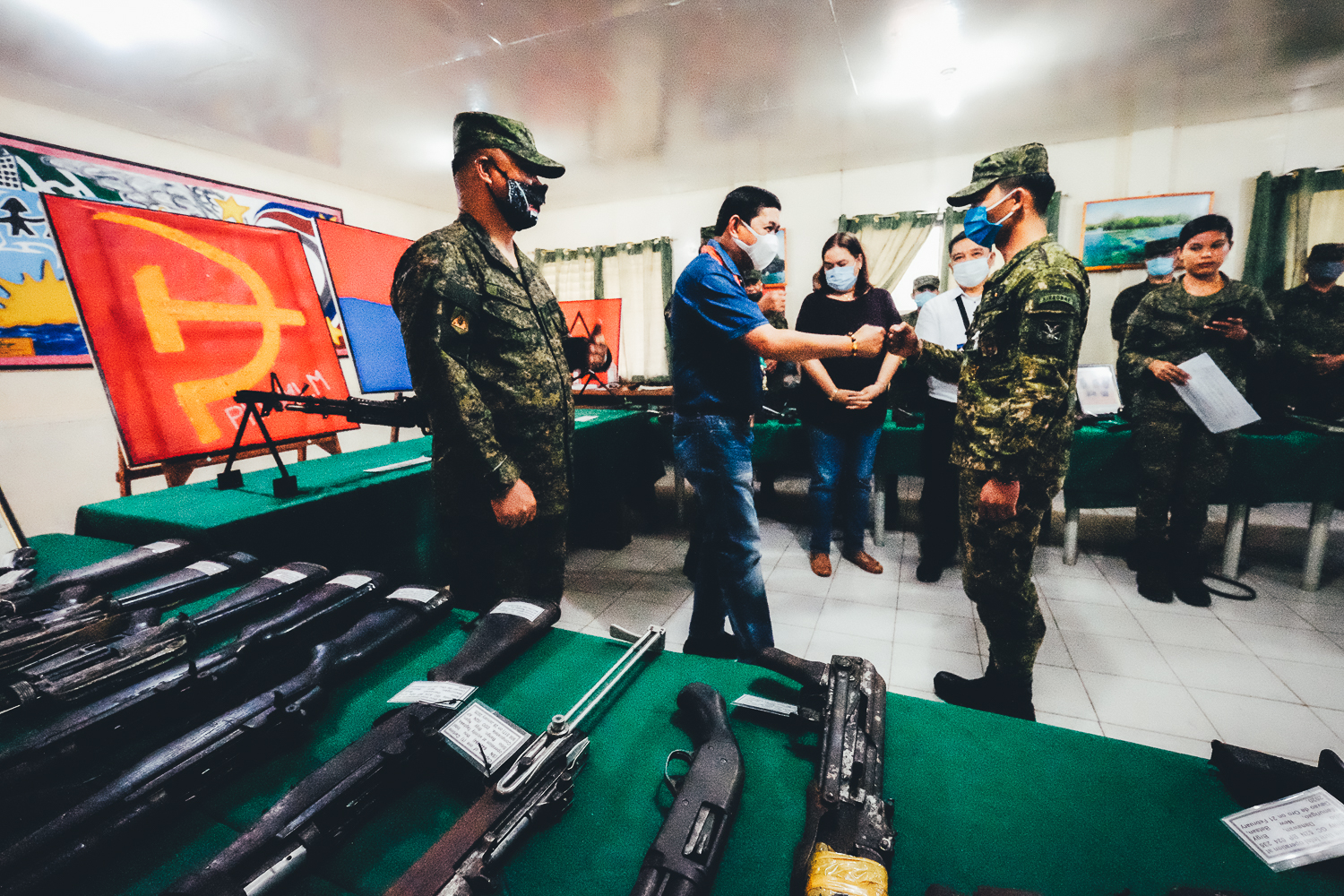 Governor Dayanghirang says the former rebels "are now given the best chance in life, a better life especially for their beloved families. As they choose the road to peace, they can now pursue their grandest dreams in life. This government program will give them the hope of prosperity and abundance, the hope that someday they will become the captains of their fate and builders of our future. The mass surrender of the NPA rebels is a big boost to our commitment to the goal of peace, the price the government is willing to pay for peace and human development in our time."
During the ceremonial distribution of financial aid which was attended by the top brass of the Philippine Army in Mindanao and local government officials here, the governor says personnel from the Department of Social Welfare and Development had a hard time in distributing food packs to the communities because of the presence of the rebels.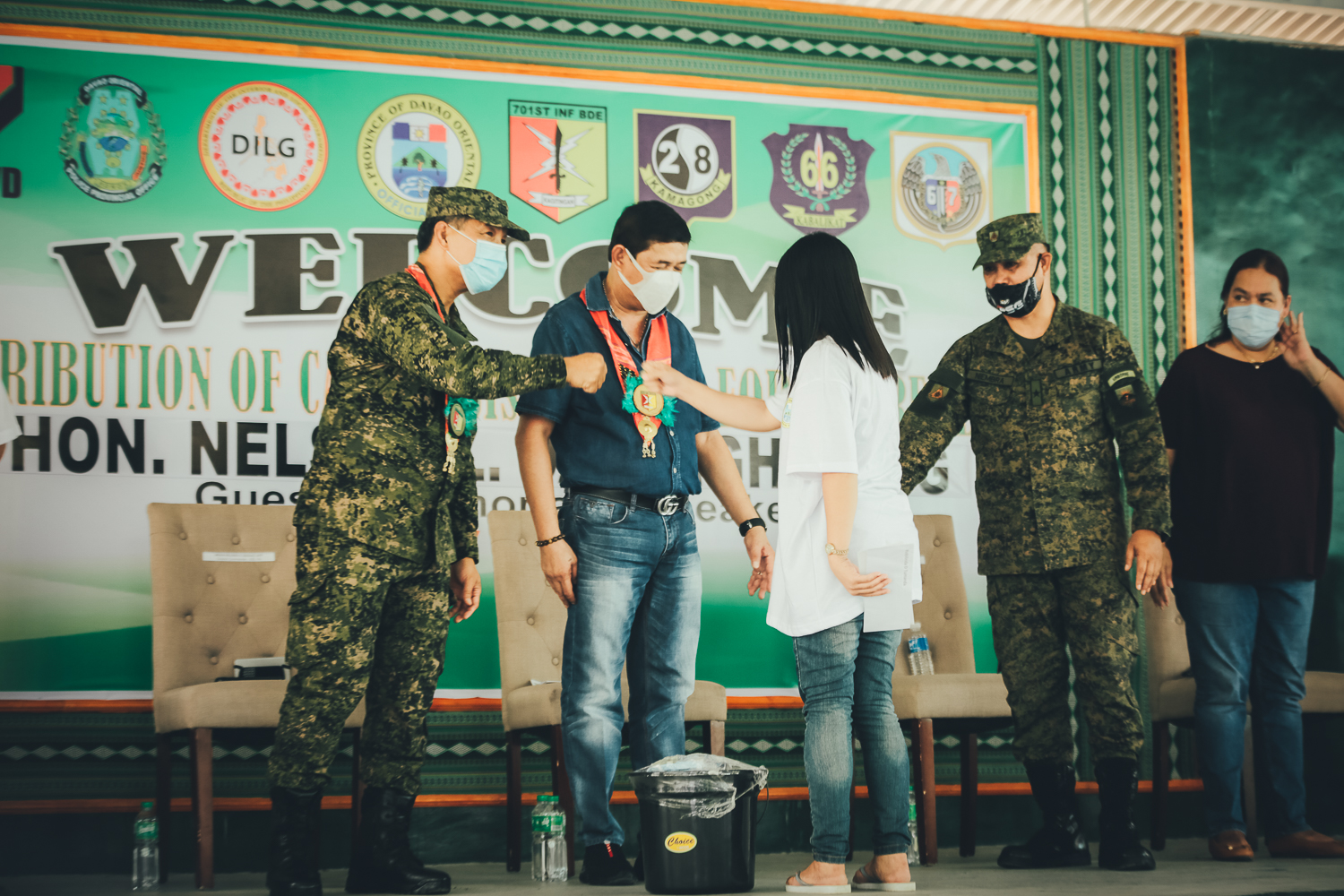 "Maglisud intawon ang atong mga personahe sa DSWD sa pag deliver sa mga hinabang ngadto sa mga komunidad tungod kay una, og naa ang mga rebelding NPA, anaa ang kabalaka og kahadlok, mao nga malangan. Ang nasakrepisyo mao ang atong mga pobreng kaigsoonan nga unta ila ng madawat og ila ng magamit ang hinabang sa gobyerno tungod sa kalisdanan nga atong nasinati sa kasamtangan tungod aning COVID 19 (Personnel from the DSWD is having a hard time distributing the government's food and financial assistance to the poor families due to the presence of insurgents. They are afraid to go to the communities because of the presence of the rebels. What is very unfortunate is that it is the poor families who suffer the most because they badly need the government's food and financial assistance now due to the COVID-19 pandemic)," says Governor Dayanghirang.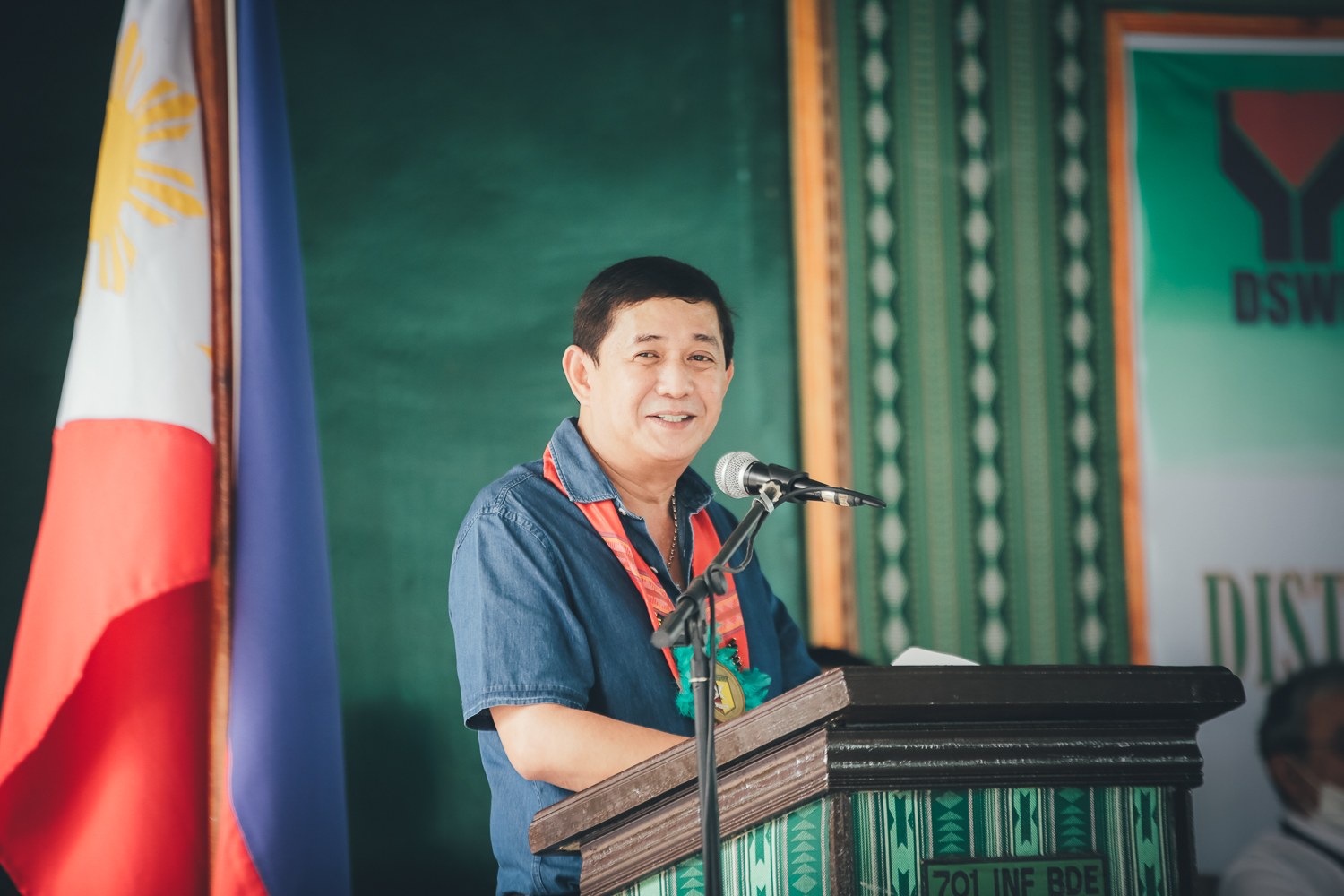 "Karun kay ania na kamo sa ubos, hinaut nga ang kwarta nga inyong madawat gikan sa gobyerno, ampingi ninyo arun sa kaugmaon sa inyong pamilya. Og inyong tan-awon, dako kaayo ang panahon nga nasayang, nga dapat unta manginabuhi mo para sa kaugmaon sa inyong pamilya. Karun nga ania namo, balikon nako, ayaw ninyo sayangi ang panahon og lihok mo arun mapreparahan ang kaugmaon hilabina sa inyong pamilya (Now that you will live a normal life in your respective communities, I hope you will put to good use the money being given by the government to you to ensure a good future for your family. May you have learned valuable lessons from a long time that you have wasted in joining the insurgency. For the nth time, I am earnestly asking you to never waste the good opportunity being given by the government to you. Work very hard for the good future of your families)," Governor Dayanghirang told the 42 former NPA rebels who were mostly composed of male teenagers. Also, among those surrenderers are a number of females, one of them pregnant, and a few senior citizens.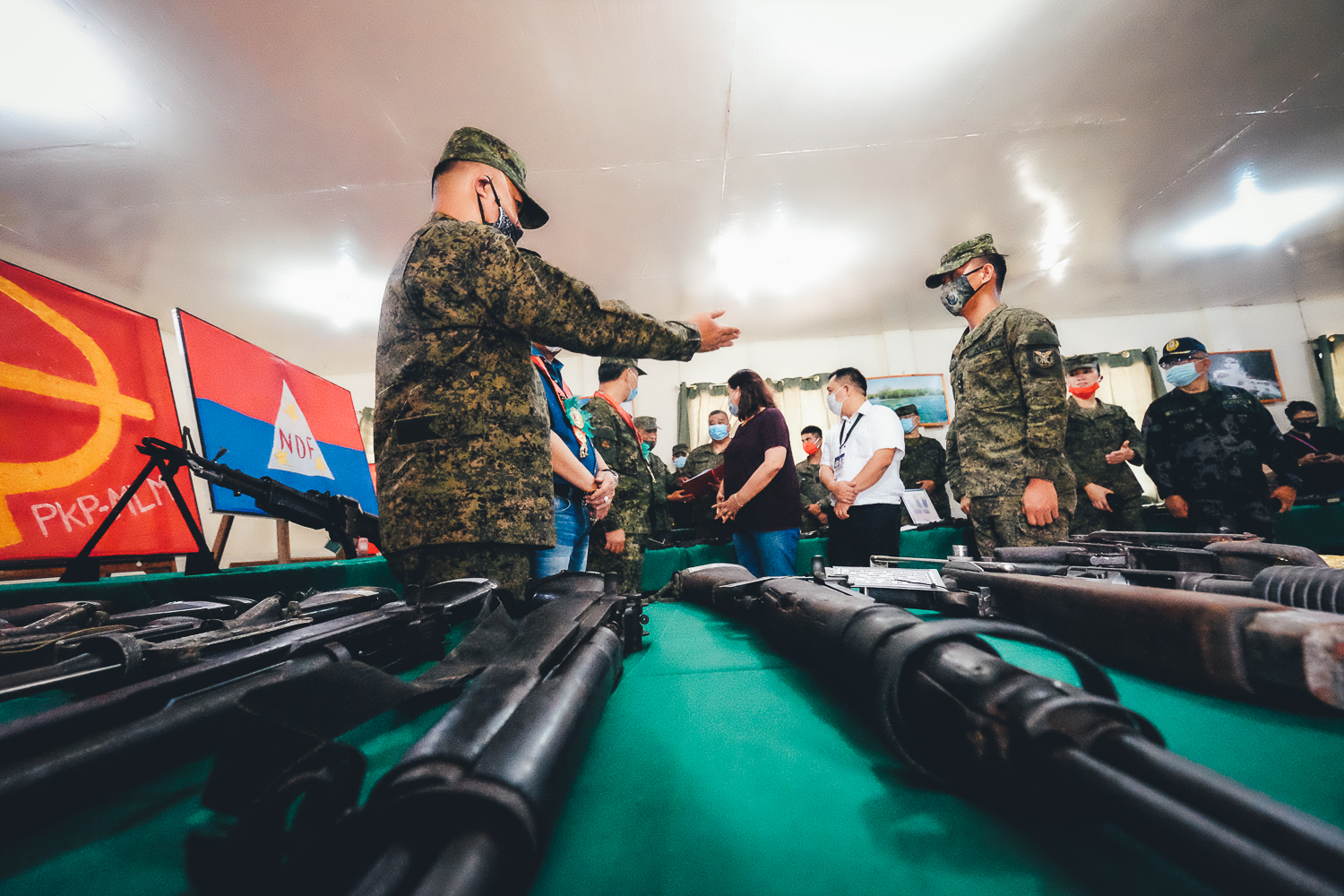 "Ato ng maangkon ang katumanan sa atong mga damgo og pangandoy, ang tinood nga kalinaw og kahapsay sa atong lugar. Walay mahitabong kalamboan kung anaa ang kagubot. Mao kana ang gipanglimbasogan sa atong gobyerno hilabina diri sa atong probinsya sa Davao Oriental nga unta mamahimong malinawon na, kay og walay kalinaw, lisud nato maangkon ang paglambo ( We can now achieve our collective dreams and aspirations to have a meaningful peace and development in our place. There is no development when strife persist in our place. That is what we have been struggling for quite a long time, to achieve meaningful peace, so there can be true and inclusive development in the province)," says the Governor.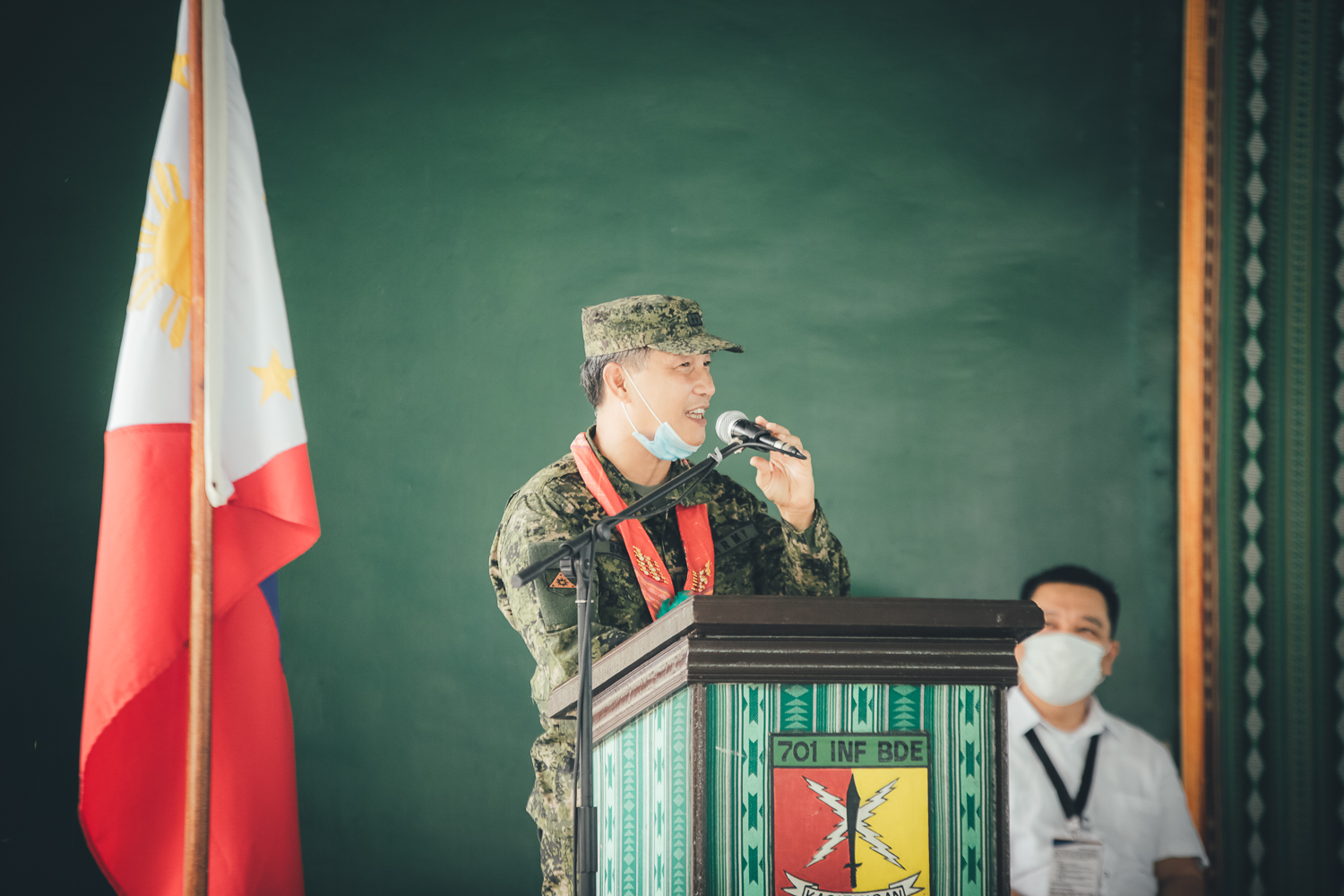 However, the commander of the Philippine Army's 10th Infantry "Agila" Division, Major General Reuben Basiao, who also graced the ceremony, heaped praises on the "exemplary leadership" of Governor Dayanghirang that inspired many rebels to surrender to the government. He cited the recent surrender on May 3 this month of a top ranking leader of the NPA in the Davao region named Jekols. "To the former rebels, now you know that what your leaders have told you are all lies. No one among you here were being mistreated by government troops upon your surrender. In fact, you are living a good life now," says Major General Basiao, debunking claims by the rebel group that surrendering rebels were either maltreated or killed by soldiers. Basiao also thanked Governor Dayanghirang for his "all-out support" in the operation of the Happy Home in the province which he called "the only functional Happy Home that must be replicated in other areas of the country."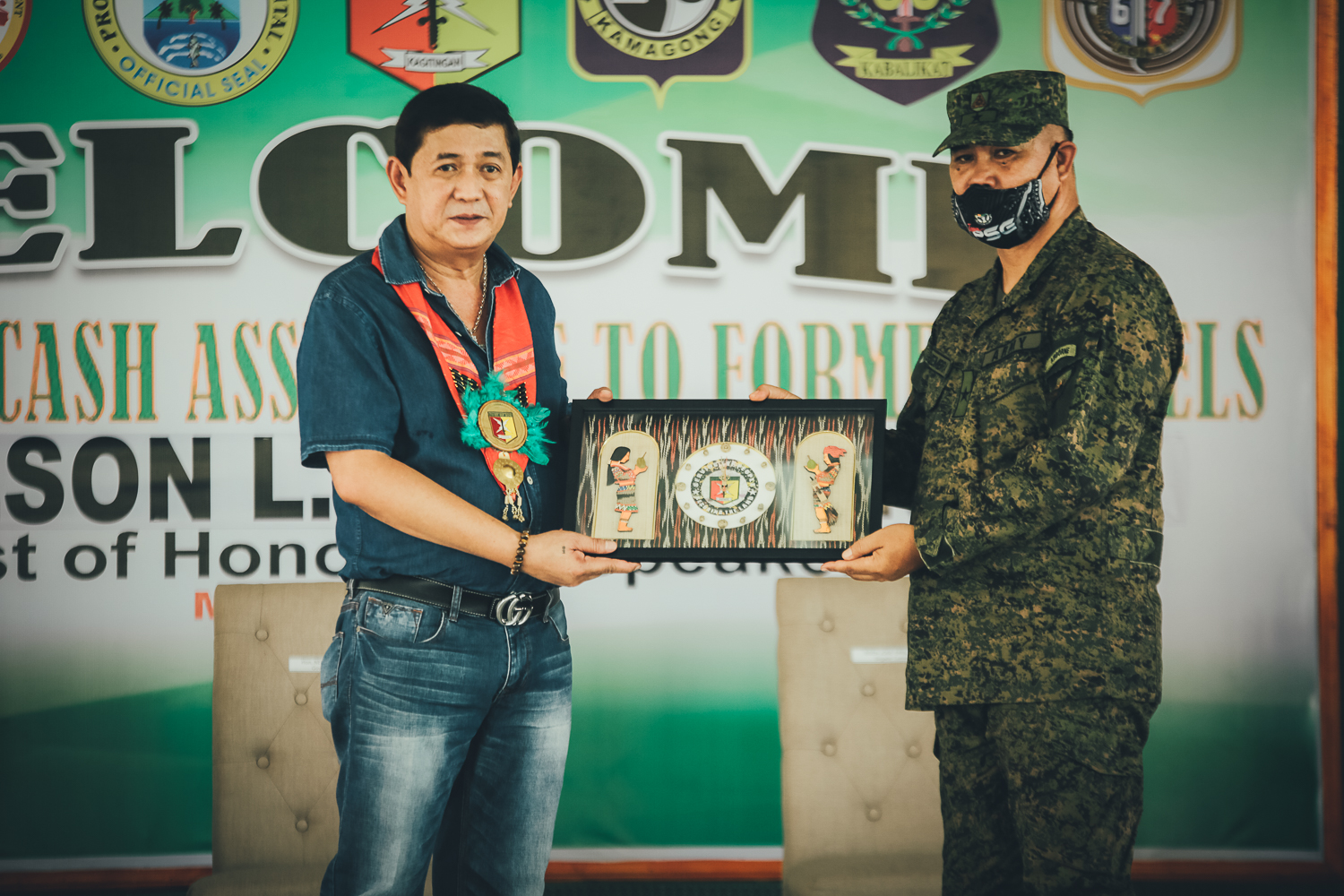 For his part, the newly installed commander of the Philippine Army's 701st Brigade, Brigadier General Jose Eriel Niembra, has called on the rebels operating in the region to surrender. Niembra, a former head of the Presidential Security Group of President Rodrigo Duterte, has assured the rebels that once they decide to go back to the fold of law, they will be provided safety and security guarantees, support for healing and reconciliation, legal assistance for those with pending criminal cases, and loan and market access for enterprising rebels. Under the government's Enhanced Comprehensive Local Integration Program, the government will give livelihood, immediate assistance, and firearm remuneration for the former rebels. The surrendering rebels will also get free housing units from the National Housing Authority, and the TESDA will also provide skills training, and the DOLE will provide cash assistance for business starter kits to the former rebels.
Since last year, hundreds of the Communist New People's Army rebels in the province and from nearby provinces of Davao, Surigao and Agusan, including their civilian supporters, were enticed to leave the armed struggle and surrendered to the government in exchange for a huge financial assistance and a host of other benefits, among them free housing, education and livelihood programs.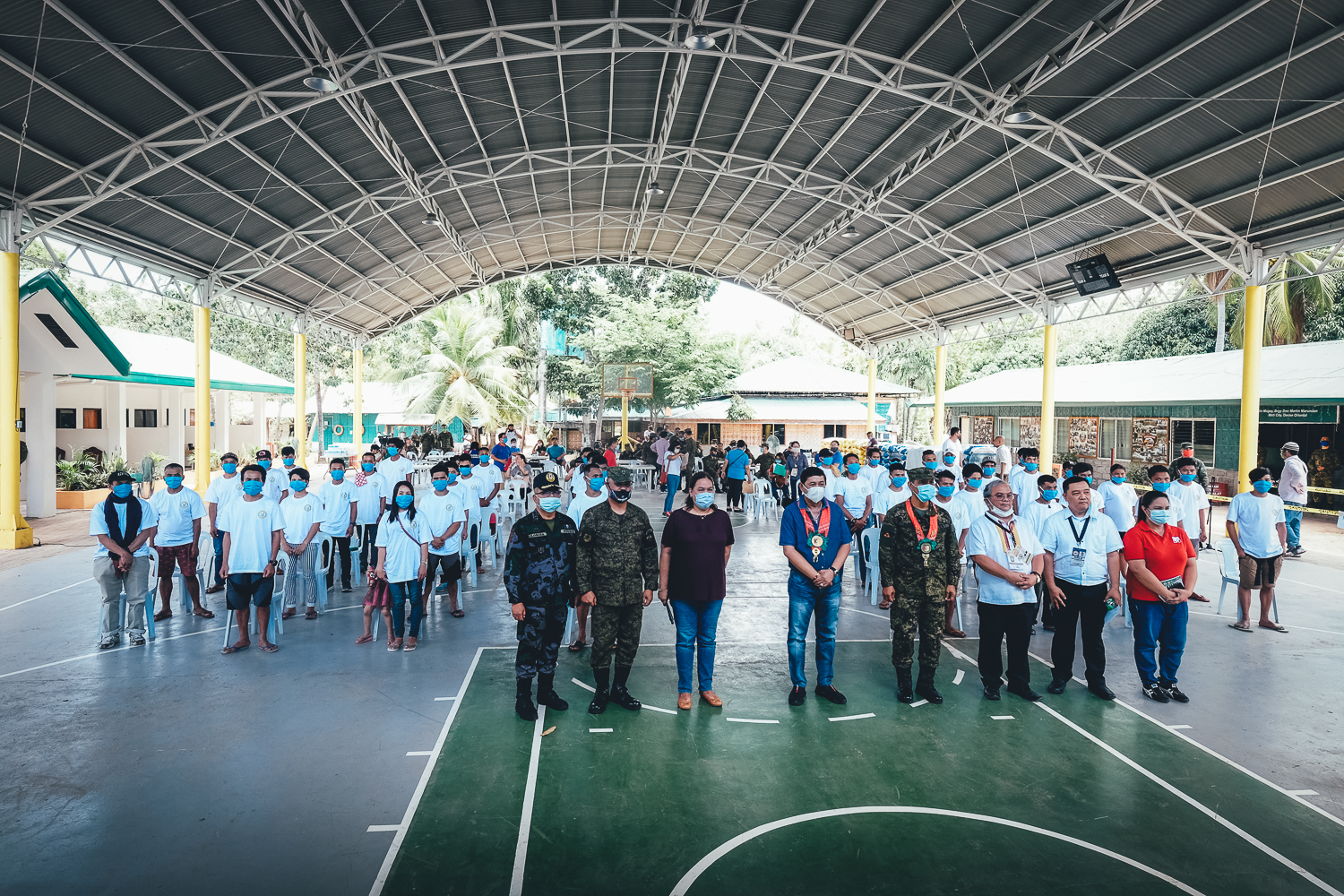 The NPA surrenderers in the province are being temporarily accommodated in a halfway house called "Happy Home," a provincial government-run facility that helps rebels in transition to civilian life. But this year, due to the COVID-19 pandemic, the surrenderers will temporarily stay at their respective homes for concern of contamination inside the facility. By Ferdinand Zuasola/Photos by Eden Jhan Licayan