LUPON, DAVAO ORIENTAL – A 16-year-old Militia ng Bayan of the Communist-Terrorist Group New People's Army has recently surrendered to government troops.
"Buboy" (not his real name), a resident of Barangay Calapagan, Municipality of Lupon, voluntarily yielded to the 28 Infantry Battalion troopers who were deployed in the area last Thursday, July 16.
Buboy, who is a minor, said he was recruited to join the NPA earlier this year by a high-ranking NPA official named "Johnny" who is said to be the Commander of the Weekend Guerilla Front 18.
He divulged that upon entering the movement, he was initially tasked to do errands and serve as the group's courier. However, he was later ordered to take up arms and become a full-fledged NPA militia.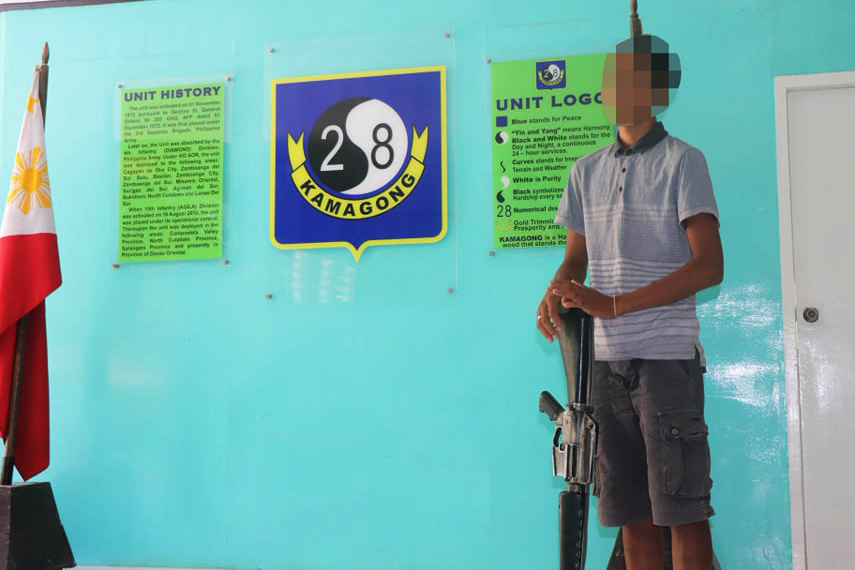 Upon his surrender, he divulged vital information which enabled government troops to recover one M16 rifle hidden near his house at Sitio Yauri in the said barangay.
The said high-powered firearm was recovered in a joint retrieval operation organized by the 28th Infantry Battalion and its counterpart from the Philippine National Police.
Meanwhile, as a minor, Buboy, was endorsed to the Municipal Social Welfare and Development Office of Lupon for proper documentation and intervention. This was done in coordination with the Lupon Municipal Police Station.
With the consent of his legal guardian, Buboy will be temporarily placed under the custody of the 28 IB while waiting for his enrollment to the government's Enhanced Comprehensive Local Integration Program (E-CLIP), entitling him to scores of benefits and a wholistic rehabilitation course at the Davao Oriental's halfway house for former rebels called Happy Home.
28th Infantry Battalion Commander Lt. Col. Alexander Banatao slammed the NPA's continuous recruitment and use of minors in their armed struggle against the government.
"Their (NPA) continuous use and exploitation of minors for their terroristic activities is a gross violation of the children's rights. It is a clear manifestation of their desperation to replenish their ranks as their forces weaken because of successive encounters with the government forces," said Lt. Col. Banatao.
A few months ago, troops of the 28IB were also able to rescue a child following an encounter with the Communist NPA Terrorists in a hinterland sitio of Barangay Maragatas in Lupon town. Contributed Article by 28th IB