City of Mati, Davao Oriental — "We open friendship, we open opportunities, we open adventures, we open perspectives, we open growth, we open industries and we open futures," says Davao Oriental Governor Nelson Dayanghirang during a business forum held here on Monday at the Honey's Hotel.
The governor has called on the investors to "ride on the wave of optimism in our province and invest in Davao Oriental, be it in agriculture, infrastructure, tourism or any other sector. We are eager to work with you."
Davao Oriental is fast emerging as destination for investments in industry, tourism and trade. Its proximity to the Pacific strategically position itself as the gateway to the Pacific. While it is the last frontier of the archipelago, it is compensated by its proximity to the markets of the BIMP-EAGA and eventually to the ASEAN economic community.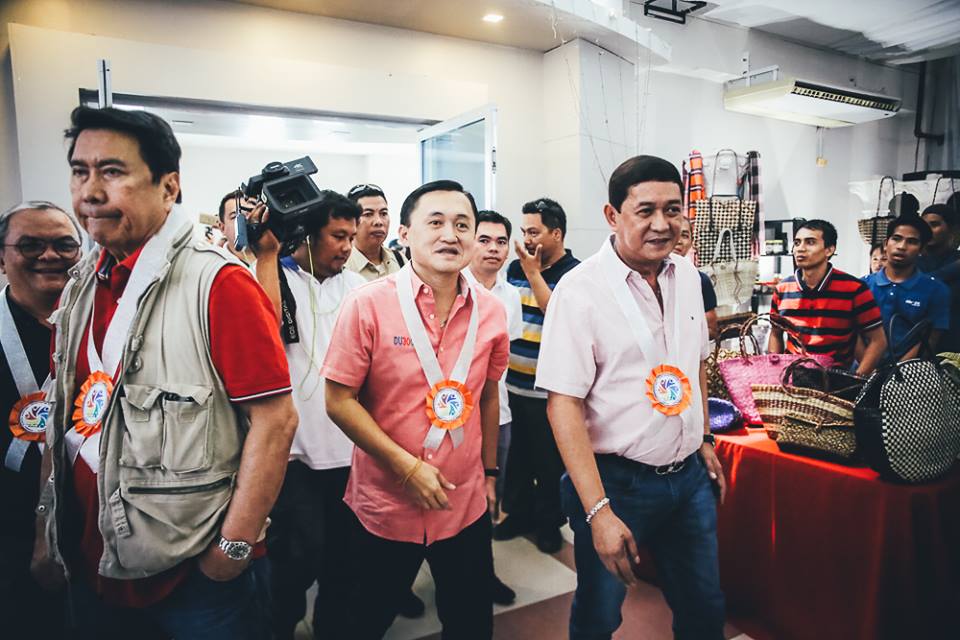 With a total area of 5,164 square kilometers, the province has the biggest land area in the Davao Region, occupying at least 32 percent of the total land area in the region. It is home to approximately 558,896 people, with a 1.59 percent annual growth rate. Total labor force participation rate is at 72.6 percent, and its literacy rate is maintained at 96 percent which indicates that it has sufficient competent workers that can be tapped by potential industries.
"This business forum allows us to amplify our strengths in Davao Oriental on a larger stage on which to showcase our famed uniquely beautiful province and our people's quality of service. This business forum is very helpful since Davao Oriental is now positioning itself to become a big player. Some of you may ask: what gives us the confidence to be so aggressive in making this business opportunity pitch? It is because we know that we have the facilities, the skills, and the competence to get things done. While many of our neighbors in the region may be ahead of us in terms of investments, I am so pleased to say that through our hard work and creativity, we are quickly catching up. Gone are the days when we were low in the hierarchy of provinces to visit and invest in. Today, both local and foreigners are discovering, and rediscovering what we have to offer," says the governor.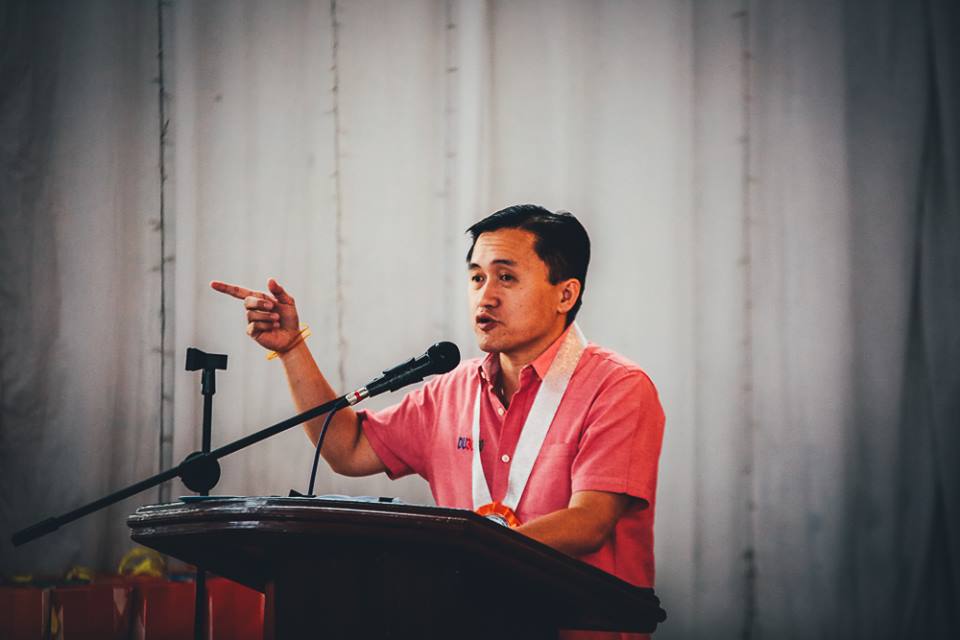 Among the abundant agri-based products in the province are coconut, abaca, cacao, banana, rice, mango, coffee, rubber cup lumps, falcata and almaciga resin. The province also has the longest coastline in Mindanao, boasting a wide stretch of white sand beaches, lakes and falls. Its rivers has the combined potential for a 20 megawatt renewable energy plant, enough to provide the provincial power requirement. Its surrounding ocean are breeding grounds of various marine life and a strategic tuna highway of the region, providing food to its people and neighboring cities. Its scenic spots and natural wonders are its pride and glory. These facts are prime reasons for the limitless opportunities that could be tapped by investors.
"In support of tourism, agriculture, and in fact, the overall viability of the province as an investment destination, we have also been working on constructing, rehabilitating, and enhancing the quality of our infrastructure. We are offering competitive fiscal and non-fiscal incentives to all enterprises. And we are working on developing and improving tourism infrastructure from roads to airport, ports and terminals. The Mati Airport Development Project which is a rehabilitation of existing terminal building is ongoing. And with the impending opening of the Mati Airport, we will be warmly inviting the rest of the world to come and invest in our uniquely beautiful province of Davao Oriental," says Governor Dayanghirang.
"Opportunities for success in business abound in our province because we now have the facilities, the skills and the competence to get things done. And we are fully committed to pursue both the prosperity of our people and the prosperity of those who have placed their confidence in us. This is why, from the very beginning of our term, we have identified and focused on peace as a foundation of long-term growth, always keeping in mind that harmony breeds communal responsibility, and consequently, progress for all. After all, only in a peaceful Davao Oriental can business grow; only with a stable community will our people be allowed to unleash their full energies. We in the provincial government have been doing our part to maximize the economic potentials of our province. We want to make it easier for people to do business in the province. We want businesses to set up shop in the province and create jobs for our people. We are now focusing on industries where there are actual opportunities for mutual benefit. We need to continue fostering a good environment for business, one that is both stable and predictable. Let us create opportunities and strategies to achieve the best for our people. The best, and nothing less. Our province is in an upswing, and I invite you to help keep our momentum going," the governor adds.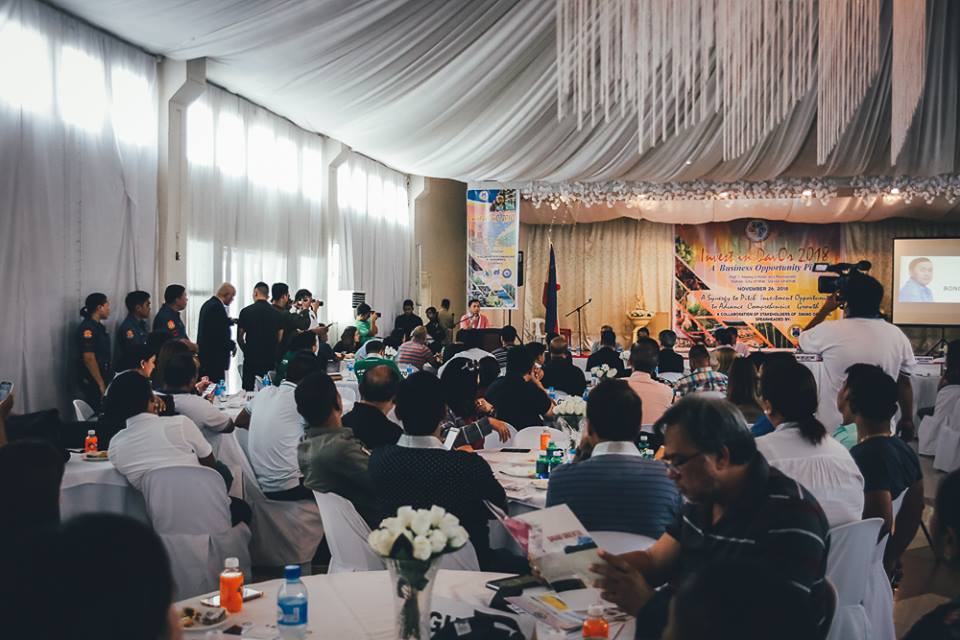 According to Zaida Fe Ramiro, senior trade and industry development specialist, priority investment areas in the province are: abaca farm establishment and processing plants, hotels and conference centers, falcata industry development; renewable energy development; poultry and swine farms and processing; retirement village development; real property development; heritage park development; and the coconut industry value chain development.
Christopher Lawrence Tesoro Go, who was the keynote speaker of the investment forum, says that with a fertile land and bountiful waters, the province is a "land of opportunities that you need to take advantage of." Go, himself a native of Davao Oriental, says the province is "one of the best places to invest in. Photos by Eden Jhan Licayan