DAVAO ORIENTAL— Close to 500 scholars who completed various technical and vocational trainings programs have recently graduated and expressed their gratefulness at the graduation ceremony on December 19 at the Provincial Capitol Covered Court.
funded by the Technical Education and Skills Development Authority (TESDA) through the Provincial Governor's Office, and Senator Loren Legarda, a total of P4 million was allocated for the scholarship program.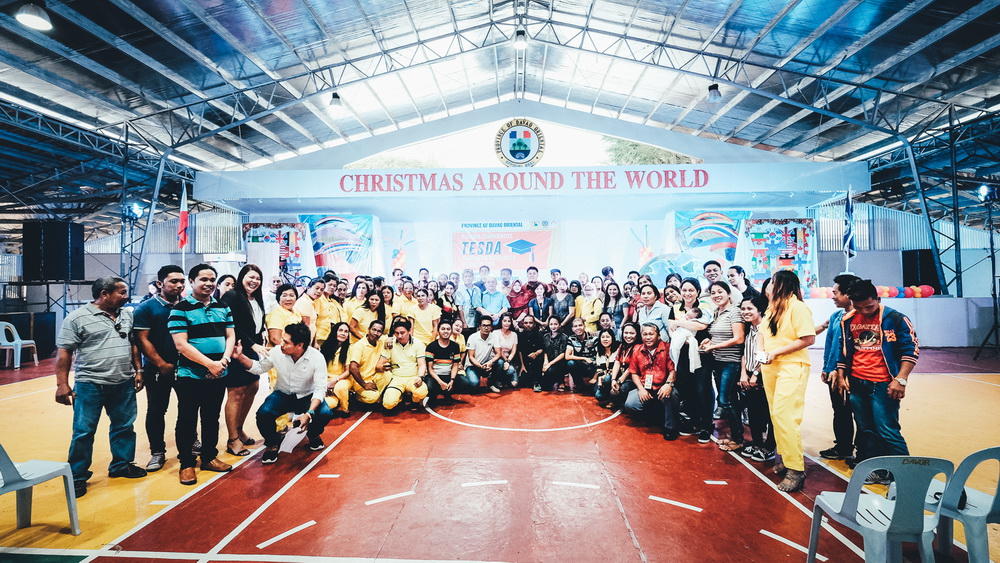 The graduates acquired competencies such as: Housekeeping NC II, Beauty Care Services (Nail Care) NC II, Massage Therapy NC II, Animation NC II, Shielded Metal Arc Welding (SMAW) NC II, Driving NC II, Bookkeeping NCII, Health Care Services NC II, HEO (Hydraulic Excavator) NC II, Events Management Services NC III, Dressmaking NC II, Hilot (Wellness Massage NC II), and Massage Therapy NC II.
Gregorio Barsanalina, Jr., OIC of TESDA Davao Oriental, who acknowledged the completion of the graduates from the skills training, said that this effort of the government is directed toward "building national competitiveness to secure higher-level employability."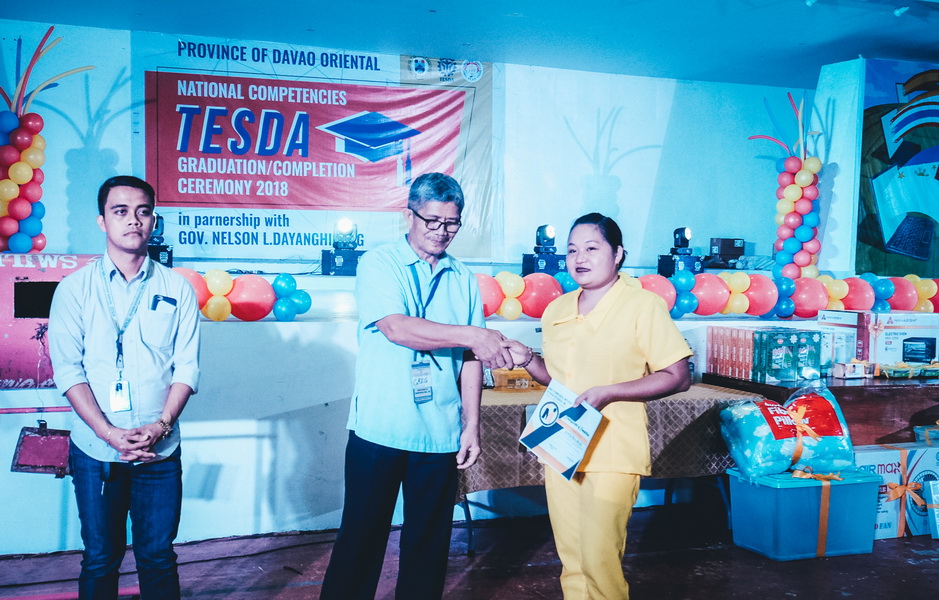 "Through this scholarship program of the TESDA, you are offered with a training that will meet the most in-demand jobs around the country. In line with the build, build, build program of the national government, heavy equipment operators are now in demand too. With the evolving fashion industry, dressmaking is the second in-demand skill around the world," Barsanalina said.
According to Provincial Chief of Staff Ednar Dayanghirang, who represented Governor Nelson Dayanghirang, said that this will help the province, on top of other programs, to eradicate poverty by curbing unemployment rate. He urged the graduates to join the impending organization of National Certificate Licentiates into a service cooperative which will help them find jobs.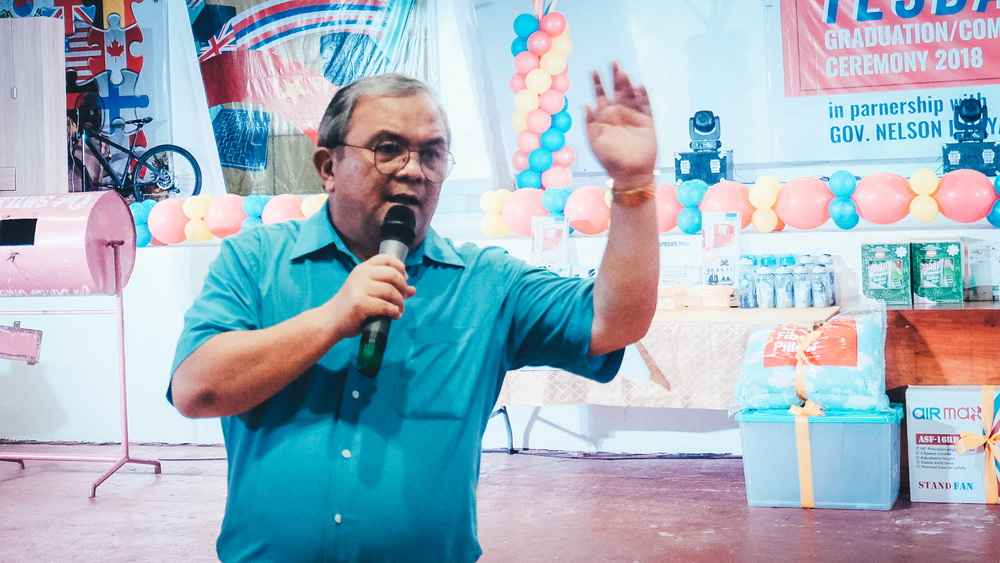 "When all legalities are complied in organizing a service cooperative, the provincial government will partner with many agencies to facilitate your employment," he said.
Provincial Employment Services Office (PESO) Head Jay O. Dayanghirang, in her closing message, congratulated the new graduates and encouraged them to use their competencies in seeking employment in a way that will contribute to the economic progress of the province. She further encouraged the new graduates to urge other people who are interested to avail of the free skills training to visit their office the soonest possible time so that they may consider the most needed skills training that will be offered in the next batch.
The PESO facilitates the implementation of the program.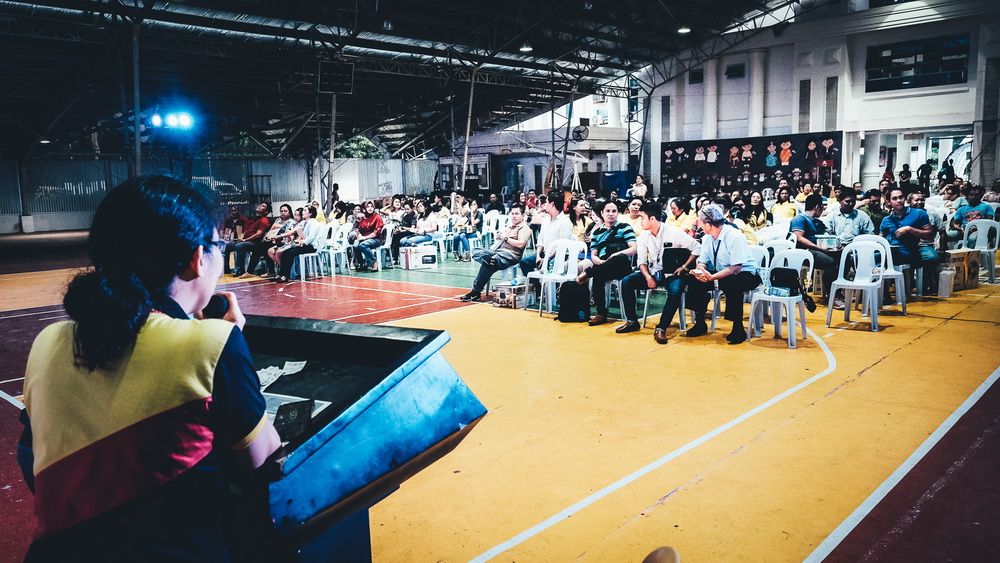 "We will accommodate those who are willing to avail of the program, those who are willing to advance their skills that will meet the demand of the different industries," she said.
Moreover, Jay Dayanghirang recognized the contribution of the partner institutes of the said training like the Technical Vocational Schools, Mari Technological Institute of Davao Occidental, Inc., Candor Technological Colleges, Inc., Krystelle's Salon Academie Inc., Maritime Technical School of Davao Oriental, Informatic Technological College of Davao Oriental, Inc., Don Bosco Training Center-Mati, Inc., Mati Doctor's College, Inc., Endonela Institute of Technology Foundation, Inc., and, St. Joseph Technical Academy of Davao City, Inc. Photos by Eden Jhan Licayan