DAVAO ORIENTAL — Starting January 18, 2021, the Province of Davao Oriental will implement the Davao Oriental Digital Contact Tracing System (DAVOR-DCTS) requiring Davao Oriental residents and non-residents to present their unique Quick Response or QR Code in private and public establishments here.
This was announced by Provincial Task Force on COVID-19 Action Officer Dr. Reden Bersaldo during a Facebook Live on Thursday, January 7, 2021.
Dr. Bersaldo said that the province, through the Provincial Disaster Risk Reduction and Management Office (PDRRMO), has already started the distribution of cards containing the QR codes of Davao Oriental residents since yesterday in the province's ten municipalities and one city.
He said those who have received their QR codes comprise Davao Oriental residents who were included in the manual registration which started in November 2020, adding that those covered in the initial registration are residents ages 15-65 years old who are considered Authorized Persons Outside Residence (APOR).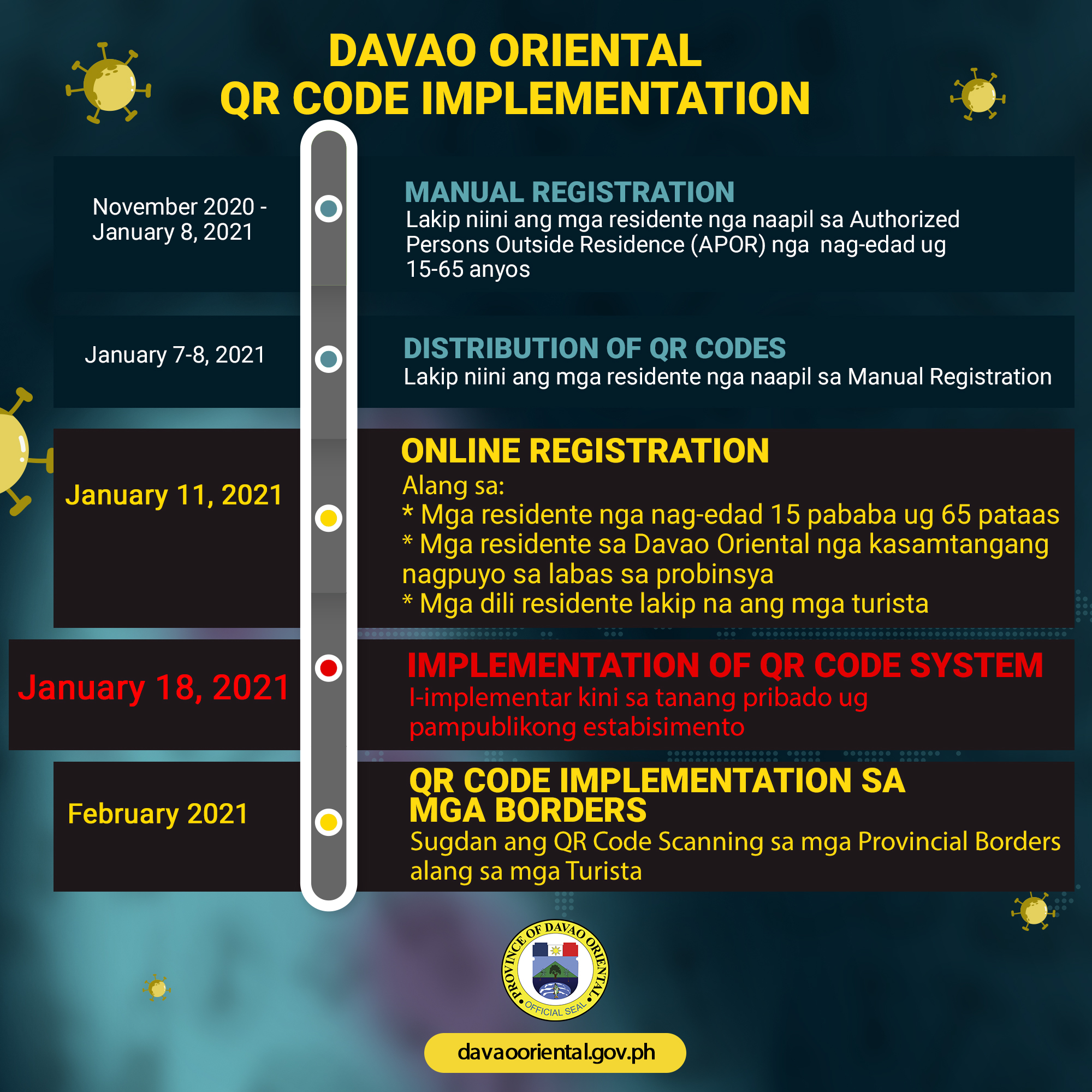 Dr. Bersaldo explained that the province opted to implement the manual registration, which tapped barangay workers to collect the required data since not all residents of the province have access to the internet or own a cellphone or a computer. "This way, we ensure that even those in the hinterlands will be served," he said.
Meanwhile, those who were not included in the manual registration may still get their QR codes through online registration. The link for the online registration is set to be posted on Monday, January 11 on the Province of Davao Oriental Official Facebook page.
Individuals who may avail of the online registration include Davao Oriental residents who comprise those who are below 15 years old and above 65 years old, Davao Oriental residents who currently live outside the province, and non-residents who include tourists.
As for tourists, the Davao Oriental borders will start requiring them of their QR codes in February 2021.
In the next few days, the provincial government is set to release an executive order requiring business establishments and private and public offices to comply with the QR code system. They are expected to secure the QR code scanner which will be released by the province in the next few days.
Dr. Bersaldo assured that the personal data provided by the residents are protected under the Data Privacy Act of 2012.
The implementation of the QR code system serves as a supplementary tool for contact tracing and for regulating the influx of tourists. By KLD-PIO