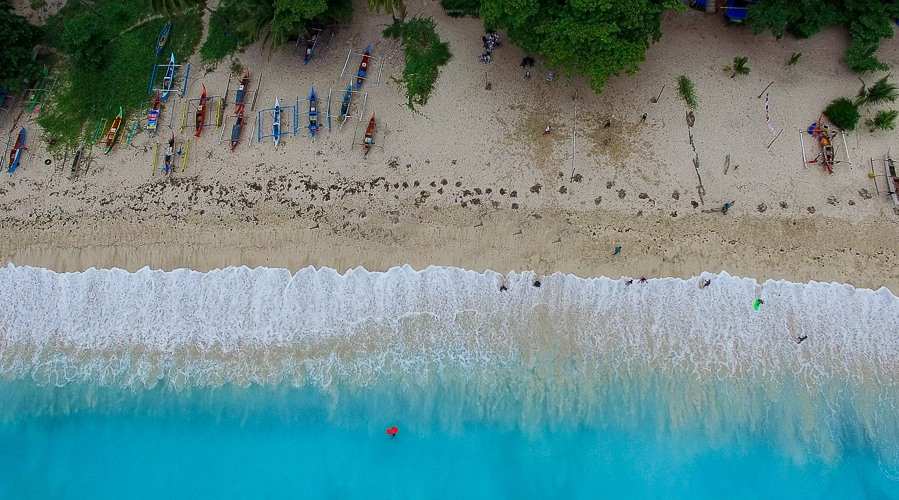 Tourism Industry
Industry Background/Situationer

Tourism is the region's top-earning industry today. Davao Oriental joins
the trend with its direction anchored on agro-industrial and eco-tourism development. Fact is, more areas of the province are increasingly shifting to eco-tourism direction of development due to its natural and exotic sites which turns out to be its comparative advantage. Hence, eco-tourism is widely promoted with products ranging from Culture, Adventure and Nature, also known as CAN package.
Among the Region's provincial inventory of eco-tourism products, Davao Oriental has the highest number classified as natural products.
It boasts of diverse natural spots like cascading waterfalls, pristine lakes
and rivers, idyllic white sand beaches, exotic islands, lush forests, bonsai forest and more. There are also cultural and historical sites such as the
"Cape of San. Agustin, who is said to be the site where St. Francis Xavier
has said mass. The "17th century San Salvador Church of Caraga" that houses antique bells and images of saints is another historical site that is still currently existing.
Years back, tourists in the province are mostly local visitors from neighboring provinces and cities." Balikbayans", guests of few locales & visiting relatives and others who are from other parts of the country who are enticed by the natural attractions of the province. Recently, majority of the tourists are brought by Overseas Filipino Workers (OFWs) and those who were married to foreigners who come to attend local festivities like "homecoming" or family gatherings as "reunions", "fiesta" and other local celebrations with grand observances. The rise in first-rate beach resort developments likewise influenced the influx of local tourists, who locate meetings, conferences, sports fests and other gatherings here in search of new experiences. Enthusiasts of water sports like the world famous "skimboarding" travel to Mati City to test their skills in the magnificent yet complex waves of Dahican beach. Dahican beach now becomes a by-word for skimboarding enthusiasts. The rising count of natural parks and swimming pools developed in the province also contributed to the entry of weekend tourists from neighboring areas in amazing number.
All these are instrumental to the rising level of the tourism industry in the
province. The industry involves a broad mix of tourism-related operators who do business to provide complementary services ranging from travel arrangements and booking, transportation facilities, hotels/resorts and homestays for accommodation, restaurants, entertainment, shopping malls, sports, and other amenities, offering so much in terms of investments, jobs and income generation.
Existing Industry Players
Hotels, Dormitel, Inns, Boarding Houses
Internet Cafe
Restaurants, Food House
Beach Resorts
Beauty Salons/SPAs
Scenic Highway Project
Welcome Park Provincial Pasalubong Center
Conference/Congress/Seminar Halls
Aerial Tour Facility
Producers of Gifts, Toys & Housewares
Mountain Resort & Swimming Pools
Water Sports Facility (Skimboarding)
Bus/Van Operators
Shopping Malls
Parks, Baywalk & Boulevard
Grocery Stores
Wet Markets
Market Potentials:
Eco-Tourism Activities
Destinations for "MICE"
Farm Tourism
Mountain trekking to Bonsai Forest
Package Trips to Tourist Sites
Aerial View of Provincial Landscapes
Scuba Diving
Local Products as Pasalubong Items
Potential Tourist Sites and Destinations in Davao Oriental
Aliwagwag Falls
Dahican Beach
Pintatagan Welcome Park
Sugnoyan Falls
Pygmy Forest
Bakbak Beach
Tourism Complex in Governor Generoso
Taguibo Cave
Pusan Point
Tulob Beach
Reef Caves in Governor Generoso
Cawa-cawa Falls
Sleeping Dinosaur
Creamsand Longbeach
White Sand Beach in Manay
Mainit Hot Spring
Pujada Island
Caraga Beach
Cape San Agustin Altar in Gov. Generoso
Langyawan Cave
Waniban Island
Basoc Beach
Cape San Agustin Parola
Mantunao Eco-Park
Oak Island
Tarsier Habitat
Tagabebe Diving Spot (The Wall)
Magpong Falls & Cave
San Victor Island
Pangyan Falls
Mountain Top Spring Resort
Kapuka Falls
Sigaboy Island
Balite Hot Spring
Languyon mangrove
Lagoon Monserrat Scenic View
Cabugao Island
Campawan Curtain Falls
Historical Church of San Salvador
Guano Cave
Ban-ao Treasure Island
Cagamisan Falls
Holy Cross Hill
Calvary Burial Cave
Baculin Bay
Dumagook Falls
Mandayan Community of Caraga
Altar Cave in Caraga
Philippine Eagle Sanctuary
Provincial Capitol in Mati
Dolphin and Sea Cow Sightings
Hearts Spring Resort
MENZI Citrus Plantation
Mangrove Nursery
Bird Sanctuary in Governor Generoso
Aguakan Falls
Subangan Museum
Jerico Beach
Mt. Hamiguitan Wildlife Sanctuary
Ambak-ambak Falls
Mati Tourism Complex
Diomaboc Lake
Mt. Hamiguitan Heritage Park
Tres Marias Falls
Investment Opportunities
• Water Sports Facilities
• High-end Sports Supply (Water/Land/Air)
• Hotels and Restaurants
• Theme Park Development
• Tour Bus Operation
• Mountain Resort Park
• Tour Packages/Tie-ups with Established Tour Operators
• Gift Shops for Souvenir/ Pasalubong Products
• Native Delicacies
• Viewing Facilities/Gadgets
• Conference Centers • Cinemas
• Airline Operation
• Mountain climbing gear supplies
BY DTI-PROVINCIAL OFFICE
---