IT HAS been 52 years since the Province of Davao Oriental was founded and since then it has transformed to a resilient, competitive, and inclusive province. Under the present administration led by Governor Nelson L. Dayanghirang, milestones were reached and development visions were realized. In his speech during the anniversary program last July 1, 2019, Dayanghirang laid down major accomplishments of his administration and key plans for the next three years.
Peace and order
With his flagship program – Nagkakaisang Lingkod-Bayan ng Davao Oriental – Barangay Outreach Caravan (NLD-BOC) which puts premium on social services that is focused on conflict-affected villages and geographically isolated and disadvantaged areas, the program has reached out to 116 out of 183 barangays since 2016, serving around 400,000 cooperators mostly from the ancestral domains and Jama'ah communities.
The concept of convergence, inclusiveness and civilian leadership which the "NLD strategy" espoused became a huge part in President Rodrigo Duterte's Executive Order 70 which aims to institutionalize the Whole-of-Nation Approach to end the country's decades-long Communist insurgency by touching the lives of the people in an effective, positive and inclusive way.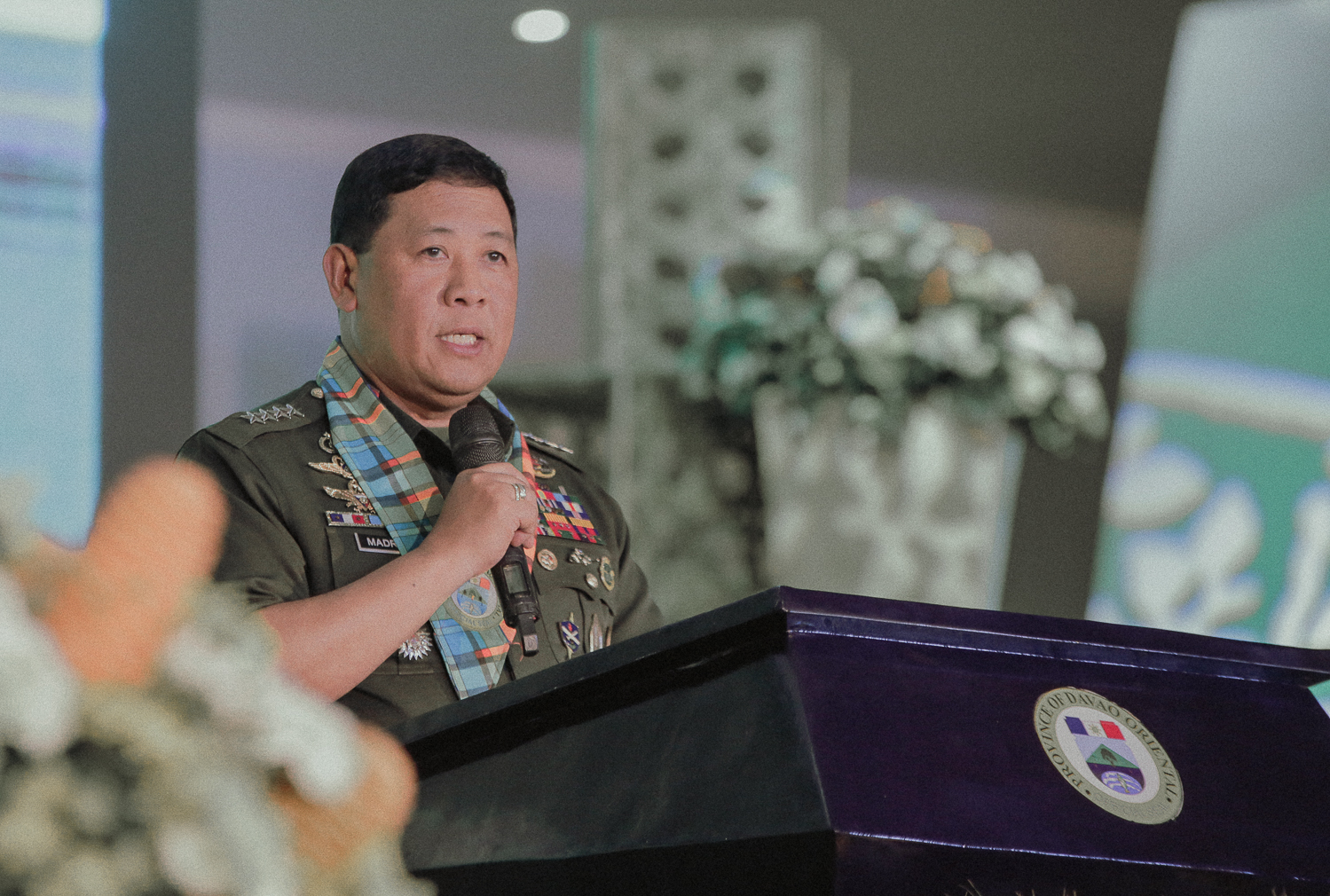 Giving former rebels a chance, Governor Dayanghirang sustained the operation of the Happy Home, the country's first halfway house for former communist rebels wishing to go back into the fold of the law. It has produced a total of 278 former rebels who have benefited on the program's comprehensive rehabilitation services, financial assistance, and others. He also established the Bal'lay Duwaan designed to be a learning center for the former rebels' children.
Anti-drug abuse
Through the various anti-drug abuse programs, 73 out of 79 barangays and 10 municipalities in the province have been successfully declared as drug-cleared. With the province's Lihok Nagkahiusang Lumulupyo Kontra Droga, a total of 8,686 drug reformists surrendered. The province also partnered with private service provider for its Balay Silangan Bagong Bahay Para sa Bagong Buhay Drug Reformation Center, Davao Region's first drug reformation center initiated by a local government unit, to operate the facility.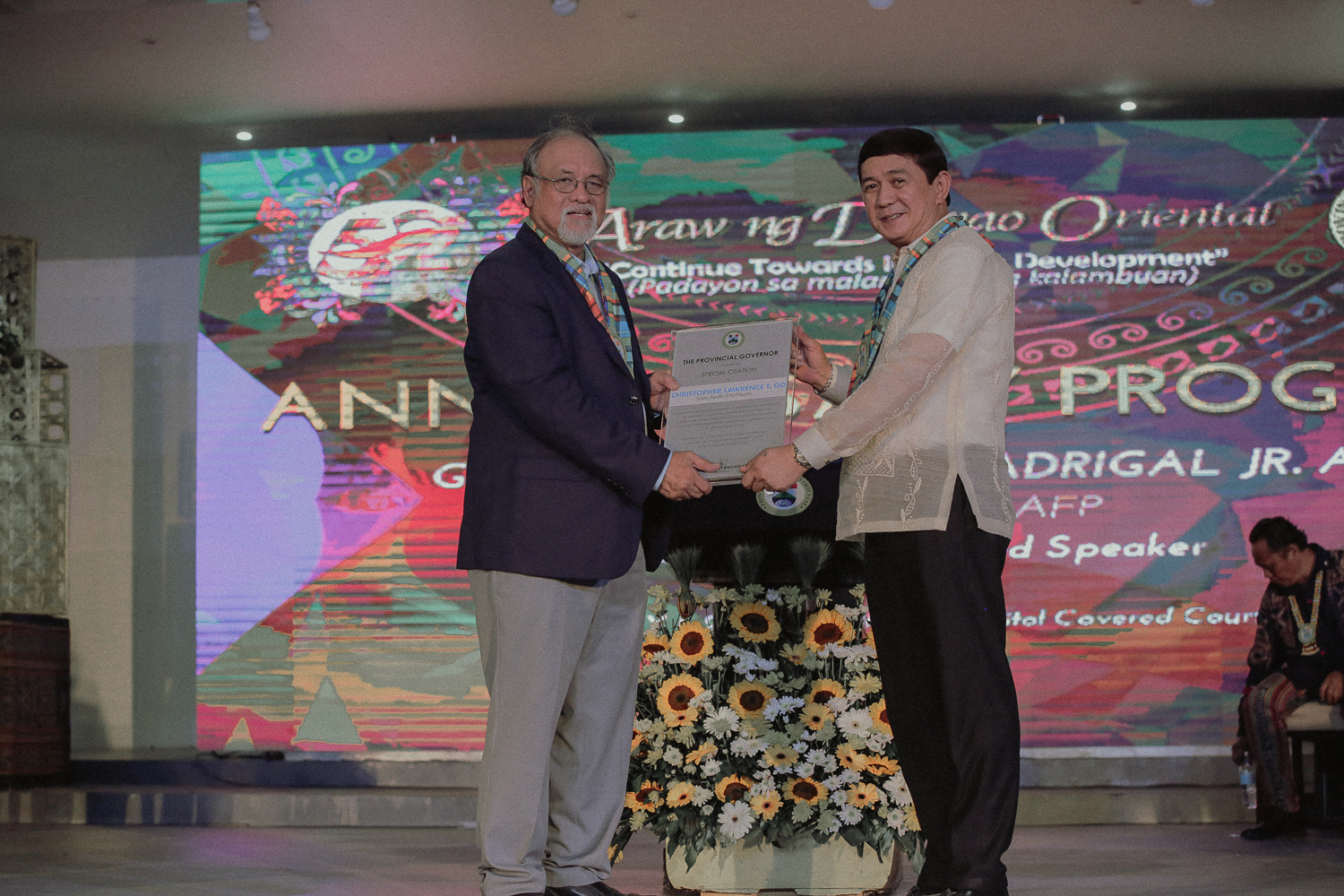 Efforts in tackling illegal drugs have made Davao Oriental the only province in the country that earned a Gold Performance Award in 2018 from the Department of the Interior and Local Government.
Agriculture
Some of its flagship agriculture programs are Food Sufficiency Program and the Pagkain at Kita Sustainable Agriculture Village Enterprise (Save) which created Learning Sites, Schools for Practical Agriculture, Farm Tourism, and Agri-Commercial Farms. Aside from expanding areas planted to various high-value that benefitted 66,378 farmers, it also provided support to fishery and livestock services that helped 4,057 fishermen and 78,109 livestock-raisers, respectively.
These efforts led the province to become the Champion Province in the Regional Gawad Saka Outstanding Agri-Achievers for 2017-2018; and produced three national winners in the Gawad Saka Outstanding Agri-Achiever in 2017 and 2018.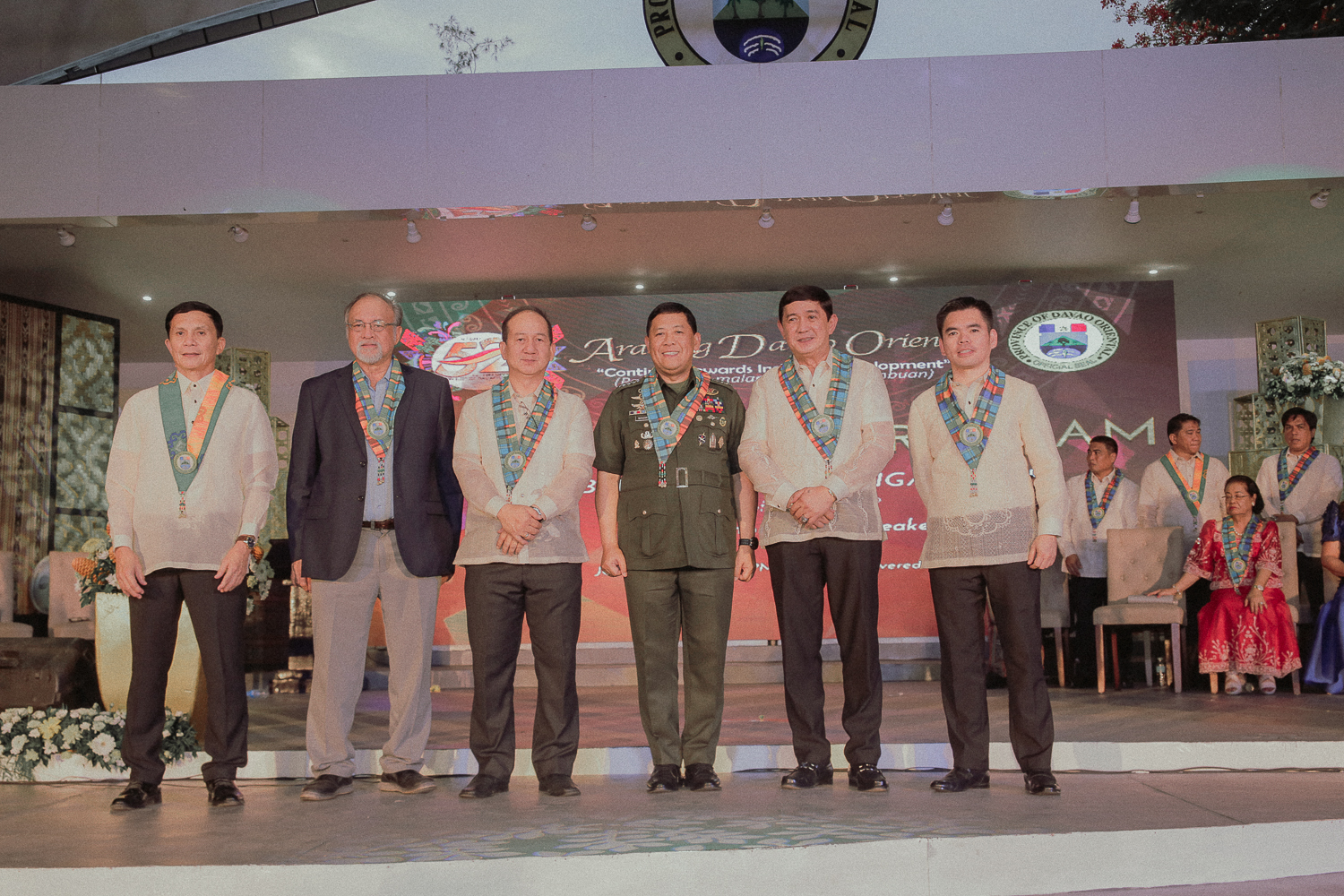 Eco-tourism and environment
For the first quarter of 2019, tourist arrival in Davao Oriental has already reached more than one million, an increase of 36 percent from 801,479 in 2018.
In the environment, the Governor crafted the NLD-Forest Landscape Restoration for Sustainable Development which has enrolled 500 families. He also established a Sanitary Landfill located in Manay town. Another notable move from the province is opposing the proposed Mining Reservation near Mount Hamiguitan in Governor Generoso.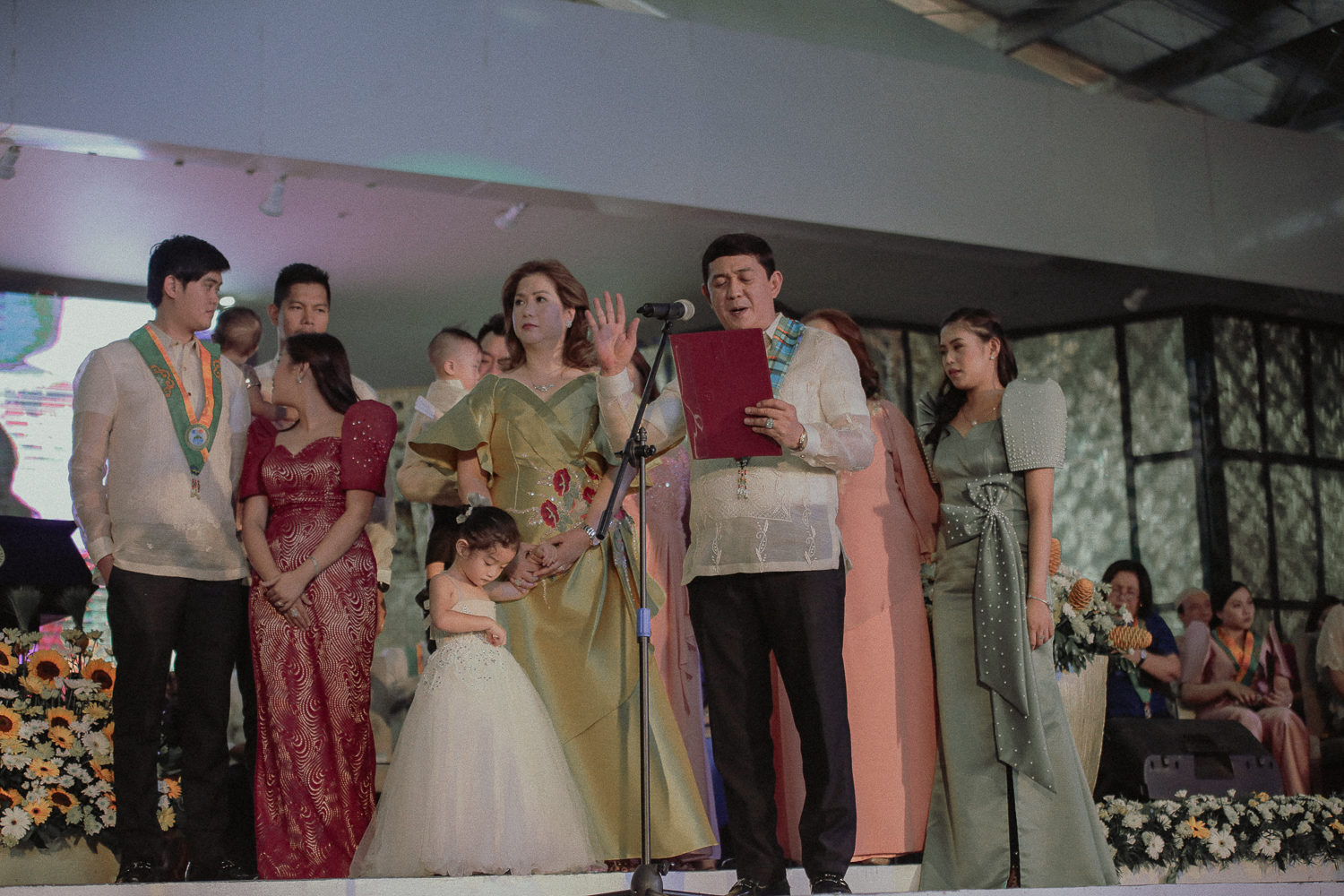 Infrastructure development
With his commitment to build high-impact infrastructure touted to improve livability and enhance economic vitality, the Dayanghirang administration facilitated the construction 21 major road projects stretching to a total of 94.8 kilometers funded under various national government programs. Various barangay halls, covered courts, multi-purpose buildings, daycare centers, Potable Water Systems, and the big-ticket Lupon Gymnasium were also constructed.
Social housing
The provincial government has partnered with the Social Housing Finance Corporation for a massive housing project which initially benefitted 2,000 informal settlers. Processing is ongoing for the acquisition of the project sites covering a total of 74.7 hectares in the areas of Mati City and the Municipality of Lupon.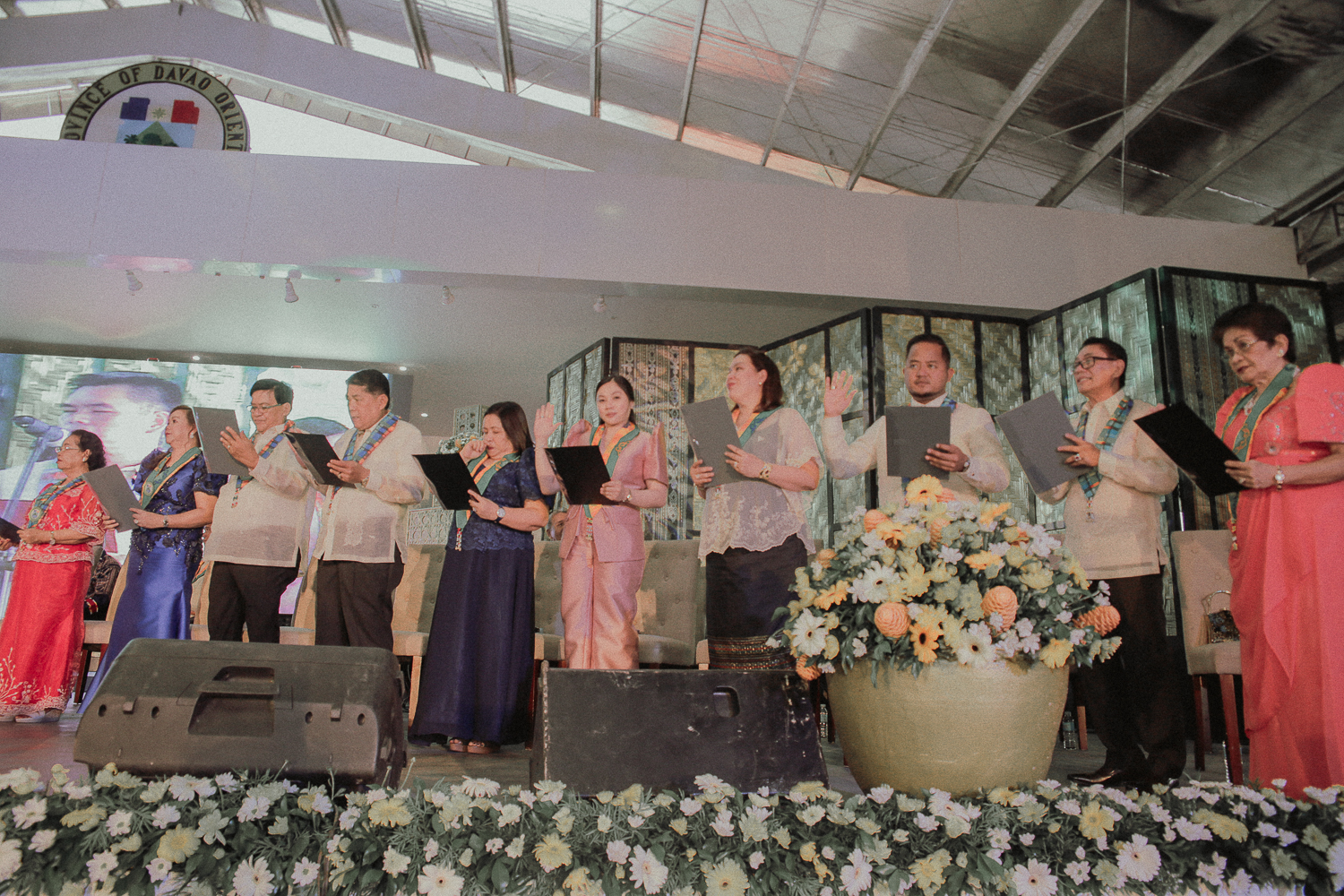 Revenue generation
Under the Dayanghirang administration, the province has intensified information and education campaign on local taxation and launched the country's first local government unit-implemented Electronic Payment and Collection System in partnership with CIS Bayad Center, Inc.
Way forward
Steering Davao Oriental through the road of prosperity and create livable communities, the province is pushing for various projects namely Davao Oriental Eco-Industrial Park, Inland Resort and Convention Center at the Tourism Complex, 12-hectare Davao Oriental Sports Complex, and revival of Mati Airport.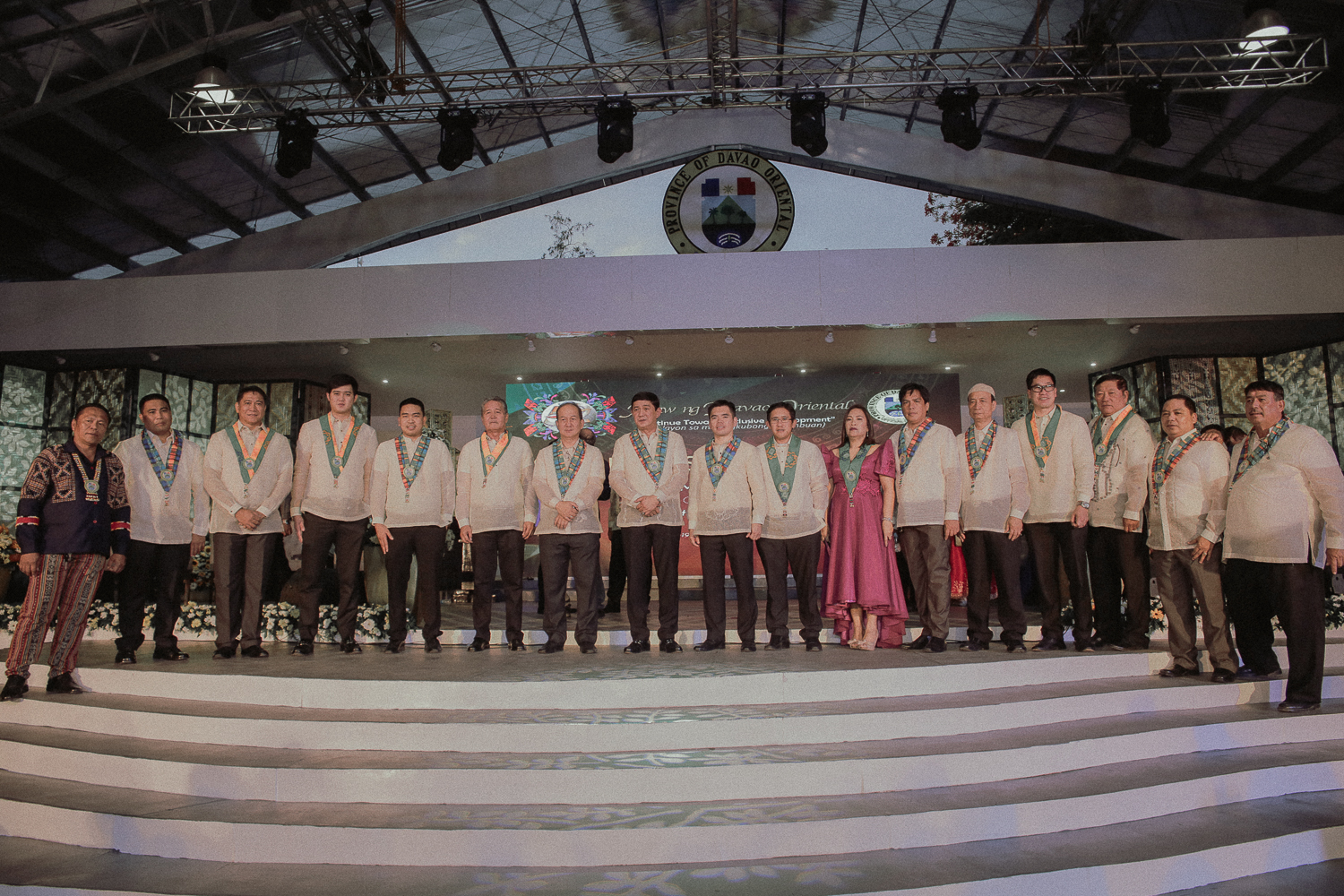 Moving forward, the provincial government vows to relentlessly pursue its development agenda and work on what needs to be done in order to achieve its goals for the next three years and beyond. "We had many successes in the past, and we are justifiably proud. But we do not have the luxury to pat ourselves on the back and rest on our laurels. There is still much to accomplish, and we must stay focused even as we pursue our goals and visions," Dayanghirang underscored. By Ace June Rell Perez/Photos By Eden Jhan Licayan
This article was first published on SunstarDavao